A viewfinder is a device that allows photographers to see what will be captured in the photograph. The viewfinder is often incorporated into the camera's eyepiece or an independent viewer, and it may feature both optical and electronic display modes. There are many different types of viewfinders – some are built into reflex cameras, while others are handheld devices separate from the camera. This article aims to explore more about this useful piece of equipment!
So, what is a viewfinder on a camera?
The viewfinder is that rectangle you see on the top of your camera. Models of DSLR cameras change, new improvements, new specifications whether point-and-shoot cameras or single-lens reflex cameras. However, one component that remains is the camera viewfinder.
Think of your camera viewfinder as your eyes to the world as you snap your photos. Your creativity comes from this little viewfinder. How you see your images through your viewfinder is what you will remember as you photograph your subject. Your viewfinder is your memory.
The pro to your camera's viewfinder is that it allows you to use your camera better. It's your assistant when getting your camera shot set up. To do so, brace your camera against your face and have your arms tucked in braced against your body. I like to have 3 points of contact to help stabilize the camera. This move will help you set up the right shot through your viewfinder. The setup will also result in sharper images, as it reduces camera shake.
Viewfinders are found on digital cameras, mirrorless cameras, and, as well as film cameras. They are a standard part of the camera and come on Canon, Nikon, Sony, and many other camera brands.

Pentaprisms vs. pentamirrors
When it comes to learning a viewfinder on a camera, there are two main types of viewfinders: pentaprisms and pentamirrors. It uses a prism with a pentaprism, which redirects the light from the lens going back to the camera viewfinder (like a prism). Many pentaprisms come from professional-level DLSR cameras. Many find pentaprisms as higher quality than the pentamirrors. Pentamirrors redirects the light through a series of mirrors. Though pentaprisms are often preferred because they have a brighter image when you look in the viewfinder camera, with pentamirrors, you will find them on cameras that are entry-level. They are made of plastic as they are cheap and mass-produced.
What is a viewfinder on a camera? Optical vs EVF (LCD)
Camera viewfinders are often either optical or EVF, which stands for an electronic viewfinder. These electronic viewfinders utilize LCD screens. DSLR cameras and SLR cameras have a through the lens (TTL) viewfinder. TTL allows the photographer to look through the lens. The photographer will then see what the lens projects onto the sensor.
With compact cameras, you will notice that the viewfinder is parallel to the camera lens. You see if often different from what projects onto the sensor by the lens. The difference between optical and electronic viewfinders? Optical does not use power at all. Digital (electronic) viewfinders are typically the liquid crystal display (LCD) screen found on the back of the DLSR camera. Digital viewfinders are commonly found in mirrorless cameras vs DSLR as they don't have a mirror to reflect the image up into the viewfinder. However, some people buy an optical viewfinder and attach it to the shoe mount on top of mirrorless cameras to have an optical viewfinder.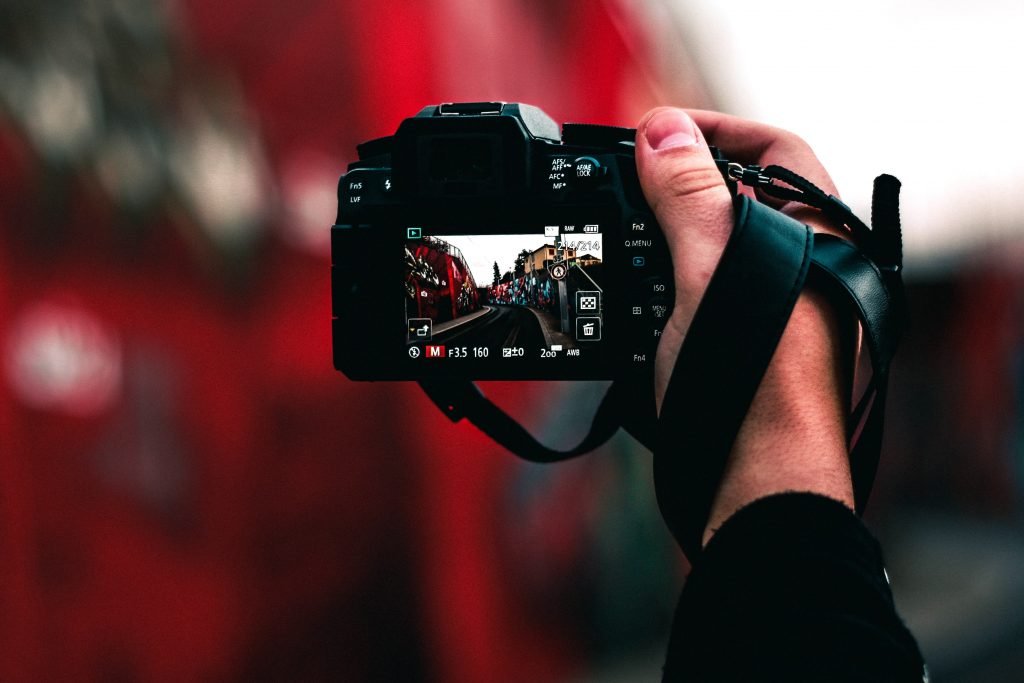 electronic camera viewfinder (EVF)
LCD screens are often for checking or reviewing photos and film footage in high-end cameras. LCDs also display camera menus, functions, and other features on the camera. You will see some digital compact cameras with LCDs that flip or pop-out for different viewing angles. You will quickly find that it is challenging when shooting outdoors. You can't see the image on the LCD if it is too bright. That is where an optical viewfinder comes in handy.
A nice perk of an electronic viewfinder is what you see is what you'll get whether in low light or neutral lighting. This is commonly referred to as a live view and its one of the features how mirrorless cameras work. As you adjust the settings of your camera, the image on the LCD screen will change accordingly.
Optical camera viewfinder (OVF)
Optical viewfinders, also known as OVF, feature a diopter. The optical viewfinder is helpful for photographers wearing vision correction like eyeglasses. The diopter is the same thing as your eyeglasses. The feature corrects your vision, bringing the picture into focus. The diopter helps dial in focus and get you a sharp image of whether you have glasses on. Sometimes diopters are in the eyepiece. Sometimes that snap on or slide on. Their standard correction range is -3 to +1.
Need to adjust your diopter? Focus the camera on the subject or object, then look through the camera viewfinder. You are going to adjust as you go. Don't stop adjusting until you see it sharply. Alternatively, you can look through the viewfinder and monitor when your digital readings are in focus.
Optical viewfinders are a factor in a lot of people sticking to DSLRs rather than switching to mirrorless. When you look through an optical viewfinder, you see straight out the end of the lens in real-time. This gives you a clear, sharp view of the scene. There's no possibility of delay or blurring. However, if you are using a variable ND filter, the viewfinder will look like you are looking through sunglasses and not giving an accurate portrayal of the final image.
Viewfinder Camera Setting Icons
In modern cameras, the viewfinder is usually part of a direct visual- or range-finder focusing system used to display exposure settings or meter information. When looking through the viewfinder, you will notice icons; these represent settings such as shutter speed, autofocus, iso, battery life, and many more. Use our guide below to learn what the icons mean.
What is a viewfinder on a camera's magnification?
There is a magnification number that is associated with the viewfinder camera. The spec sheet will tell you what this number is. For instance, when the sheet says the viewfinder has a 1X magnification, you will know while looking through your 50mm lens, the image is the same as if you were right next to your camera using your eyes.
Your image size depends on the focal length of your lens. Focal lengths differ, making wide-angle lens objects in the foreground look large. Mid-ground objects would then be small and further away. Telephoto lenses are going to bring items close to you and rather large. Make sure you know what the focal length of your lens is before going out to shoot.
FAQ
What kinds of cameras have viewfinders on the top of the device, facing upwards?
A camera with a viewfinder on the top is called a waist level viewfinder camera. This older style camera was popular before the introduction of single lens reflex cameras. With a waist level viewfinder camera, the photographer looks down into the camera to compose the shot. Often, these cameras have a smaller lens than SLR cameras, and the image quality is not as good. However, they are lighter and easier to carry, making them a good choice for photographers who are constantly on the go. Waist level viewfinder cameras are also less expensive than SLR cameras, making them a good option for beginners.
It depends on what you're shooting and your preferences as a photographer. Some people prefer to shoot without a viewfinder, while others find it essential. Cameras that don't have a viewfinder (like most smartphones) typically allow you to see the scene before you take the picture, which can be helpful for composing your shot. However, because you're looking at the screen instead of through the lens, the image can sometimes look different than what you see in real life. Cameras with a viewfinder allow you to see exactly what the lens sees, so there's less chance of surprises when you go to take the picture.
There isn't really a definitive answer to this question since it can vary depending on the situation and what you're trying to accomplish. However, in general, viewfinders are most useful when you want to frame your shot perfectly or when shooting in difficult lighting conditions.
If you're just shooting casual photos, then you might not need to use a viewfinder at all. However, if you're trying to capture something specific or want to make sure your photo is perfectly composed, then a viewfinder can be extremely helpful.
Why is it blurry when I look through my camera?
There are a few different reasons why your camera might be producing blurry images. First, it could be due to a dirty lens. If there's dirt or dust on the lens, it can cause the light to scatter and produce a blur. Second, it could be due to a problem with the camera itself. If the shutter isn't opening and closing properly, or if the sensors are dirty, that can also lead to blurriness. Finally, it could simply be that you're not focusing properly. If you're not sure how to focus your camera, consult your owner's manual or do a bit of research online.