Do you ever feel like you can't quite capture the beauty of a scenic view with a regular lens? Have you ever wanted to ensure that your photos will be perfect, no matter what stunning views, scenes, or outdoor activities you are trying to capture? Well then, have you ever considered using fisheye lenses for your photography?
Fisheye lenses work differently than regular lenses and allow for more flexibility when capturing different angles and perspectives in your photographs. Fish eye lenses, sometimes known as wide-angle lenses, use a curved design to capture a larger field of vision than regular camera lenses. This allows photographers to capture even the most difficult angles while taking pictures.
To understand how fisheye lenses differ from other camera equipment, one must look at how they work and how you can take creative shots with them. Fish eye lenses are an innovative way for photographers to create unique photos by changing the perspective, resulting in extraordinary images that you can't achieve with any other lens type. They are perfect for landscapes or when shooting action sports events.
For those looking to add depth and interest to their pictures, fish eye lenses should be at the top of their list!
In this article, we'll examine why fish eyes are so popular among professional and amateur photographers. We will also provide tips on how to use them for dynamic shots and show off the power of these great camera gear. Taking great photos doesn't have to be complicated – let us dive in and explore why investing in fisheye camera lenses might give you the creative edge!
What's a Fisheye Lens?
A fisheye lens is a wide-angle lens commonly used in photography and filmmaking. It is characterized by its short focal length, which allows it to capture a vast field of view. The most recognizable feature of a fisheye lens is the characteristic circular distortion, which creates an effect similar to looking through a fish's eye, hence the name 'fisheye.' Fisheye lenses are often used to create unique and creative shots that would be impossible with other types of lenses.
Uses of Fisheye Lenses
Fisheye lenses are a great way to capture unique and creative shots that regular lenses may not be able to achieve. Professional and amateur photographers have found ways to use these excellent camera gear, utilizing the wide-angle field of vision they provide.
One of the most popular uses for fisheye lenses is photography and videography in action sports such as snowboarding or mountain biking. With their comprehensive angle view and ability to capture challenging angles, these lenses give photographers an edge when trying to get unique shots that regular lenses can't quite manage. Fisheye lenses also come in handy for landscape photographers looking for a more expansive view, be it shooting skyscrapers or natural terrain.
You can also use fisheye lenses for macro photography and close-up shots, which are impossible with other lenses. This type of lens allows photographers to push the boundaries when taking pictures up close, enabling them to capture incredible detail while maintaining a large field of vision simultaneously.
Lastly, fisheye lenses offer photographers an innovative way to create stunning effects with their photos – giving them extra control over exposure settings, focus points, and depth perception all within one lens. It's no wonder many professional and hobbyist photographers have invested in this equipment! Whether you're shooting outdoor scenes, action sports, or simply capturing moments up close and personal – there's no denying the power that fisheye lenses bring to any photographer's toolkit.
History and Development of Fisheye Lenses
The history of fisheye lenses dates back to the early 19th century when inventors began experimenting with ways to capture unique and creative angles. Early attempts included the use of hemispherical mirrors, which allowed for a wider field of vision than regular cameras could achieve.
The earliest camera-based fisheye lens was created in 1841 by professor Johann Heinrich von Claussen, who used a double convex lens to achieve the effect. In the 1920s and 30s, the first commercially available fisheye lenses hit the market, allowing amateur photographers to experiment with this new technology.
Zeiss Ikon created one of these lenses and could capture a 180-degree view. This proved to be a popular option for many different types of photographers as it offered unprecedented control over perspective and exposure settings. Since then, technological advances have led to an abundance of options when purchasing fisheye lenses.
There are now countless choices from various manufacturers that offer varying levels of quality and fields of view ranging from 180 degrees up to 360 degrees! Many modern DSLR cameras also feature built-in fisheye capabilities, making it easier than ever before for budding photographers to get creative with their shots. Overall, the history and development of fisheye lenses have come a long way since they were first invented in the early 19th century.
Today's available models offer unparalleled flexibility in capturing stunning images – making them a must-have for any serious photographer looking for an edge on their shots!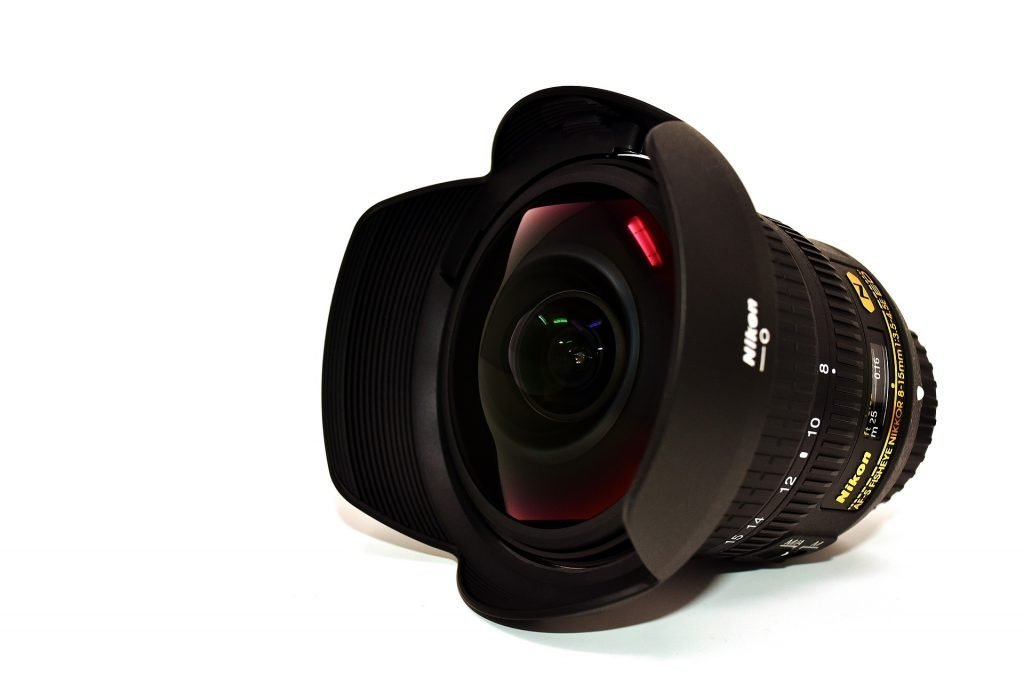 Types of Fisheye Lenses
Fisheye lenses come in various types and sizes, each offering unique characteristics to suit different types of photography. For example, circular fisheye lenses are great for capturing sweeping vistas and landscapes with an ultra-wide angle.
In contrast, full-frame fisheye lenses are perfect for capturing close-up shots and highly detailed images without distortion. Wide-angle fisheye lenses provide an even wider field of view than regular lenses and are most often used by action sports photographers. This is because they're better able to capture athletes' speed, excitement, and dynamism in motion compared to standard lenses. Fisheye prime lenses provide an even more extreme viewing angle than wide-angle ones – up to 180°!
These lenses offer minimal distortion at their widest focal lengths, making them ideal for capturing highly detailed shots from close distances. Lastly, rectilinear fisheye lenses are designed to focus the image from edge to edge with minimal distortion – making them great for landscape shooting or any other type of photography where you want a straight line of sight without curvature.
What to Look for When Buying a Fisheye Lens
There are a few critical technical specifications when shopping for a fisheye lens. First and foremost, you want to ensure the lens is compatible with your camera body's mount – this could be either DSLR or mirrorless. Next, consider the focal length of the lens. Fisheye lenses come in various sizes, ranging from wide angles (providing expansive views) to higher focal lengths (allowing more control over your shot). On most lenses, this will be listed as mm on the box/label. One other essential factor to check is the maximum aperture. This refers to how wide/open the lens diaphragm can open during exposure, measured in f-stops – lower numbers indicate a wider aperture, whereas higher numbers indicate a narrower one. Knowing the maximum aperture of your fisheye lens can help determine how much light will pass through it during different settings and scenarios. Furthermore, other essential specs include:
An internal focusing mechanism (allows focus adjustment without changing barrel length).
Zoom capability (some models offer an adjustable focal length).
The number of optical elements within the lens (this helps reduce distortion and aberrations).
Any special features, such as image stabilization or weather sealing, may be available depending on the manufacturer and model.
By researching all these different technical specifications before making a purchase decision, you can ensure that you choose a fisheye lens with reliable performance and meet all your photography needs!
Advantages & Disadvantages
Fisheye lenses are excellent for adding an interesting perspective to your photography. However, there are advantages and disadvantages associated with their use. The main advantage of using a fisheye lens is its distinct, wide-angle view. With a 180° field of view, these lenses allow you to create dramatic images that capture larger areas than traditional wide-angle lenses. Fisheye lenses also have short focal lengths, meaning you can get closer to the action without sacrificing image quality or clarity.
On the other hand, there are drawbacks to using fisheye lenses as well. For example, due to the extreme curvature of their optics, fisheyes produce strong distortion and warping – making them unsuitable for most portraiture or straight-lined subjects. Additionally, since these lenses capture such a large area in each shot, it can be challenging to compose the picture correctly and focus on specific elements. This means that shooting with a fisheye requires some practice before you start to master its unique properties! Only you can decide if it's worth investing in a fisheye lens – but with knowledge about its advantages and drawbacks, you should be able to make an informed decision on whether or not it's suitable for your style of photography!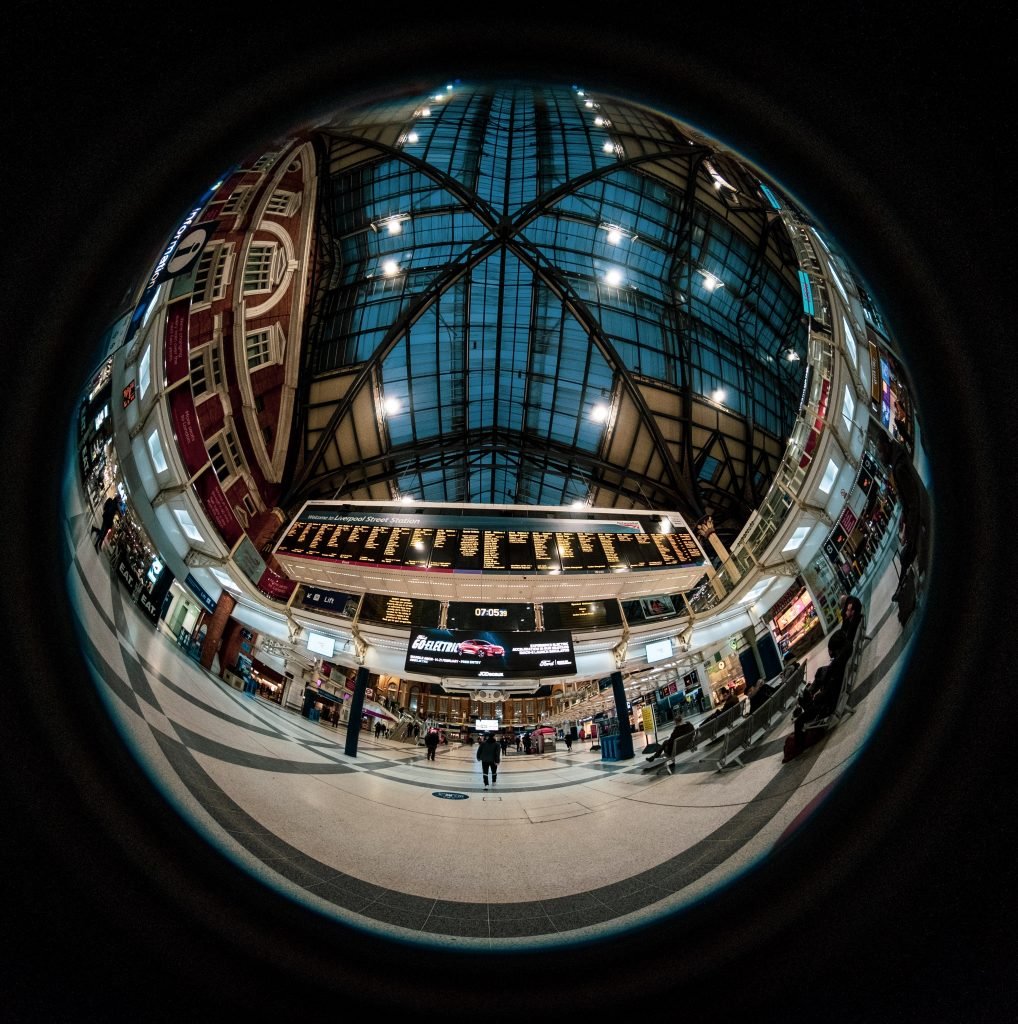 Using A Fisheye Lens For Creative Photography
A fisheye lens can be an excellent tool for adding a touch of creativity to your photography. With its unique, wide-angle view and significantly shorter focal length, a fisheye lens can help capture scenes in ways traditional lenses cannot. Here are some examples and ideas on how to get creative with one:
Wide-Angle Landscapes: A fisheye lens is perfect for capturing expansive natural landscape scenes. Its ultra-wide view allows you to fit more elements into the frame, making it easy to shoot sweeping vistas.
Exaggerated Close-ups & Distortion Effects: As the name implies, these shots are all about playing with distortion. Use your fisheye lens to create exaggerated close-ups or dramatic distortion effects that capture some aspects of your environment in interesting ways.
Panoramic Shots & Reflections: Due to its large field of view, a fisheye lens is ideal for stitching multiple photos into one seamless panorama shot. Plus, you can use its curved optics to craft stunning reflection shots without getting too close!
Finally, don't be afraid to experiment and try different settings when using your fisheye – you never know what kind of unexpected perspectives you may discover! With its unique capabilities, you can use a fisheye lens to create truly unique photos that add an extra dimension of creativity to your work.
Final Thoughts on Fisheye Lenses
Fisheye lenses are excellent for adding an exciting perspective and creative element to your photography. With their ultra-wide view and shorter focal length, these lenses allow you to capture expansive scenes and craft unique shots in ways that traditional lenses simply cannot. Although there are drawbacks to using a fisheye lens, such as distortion and warping, the careful composition can help minimize those effects and make the most of this distinctive style of photography. The key is to experiment with different settings, angles, and perspectives; only then will you start to master the art of shooting with a fisheye!
FAQ
How do I care for my fisheye lens?
Caring for your fisheye lens is essential for keeping it in tip-top condition. Here are some essential tips to keep in mind when caring for your fisheye lens:
Clean the lens regularly with a microfiber cloth and a quality camera lens cleaning solution. Avoid using harsh chemical cleaners, as these can damage the lens coating.
Store your lens in a padded case or bag to avoid dust and moisture build-up and accidental damage.
Protect the front element of your lens by attaching a filter or hood when shooting outdoors. This will help protect against dust, dirt, and other debris.
Use only original manufacturer-recommended accessories on the lens, such as caps and hoods, to maintain optimal performance.
What are some fisheye lens photography tips?
Fisheye lenses can create unique and interesting shots, but mastering this type of photography requires practice and experimentation. Here are some tips to help you get the most out of your fisheye lens:
Take advantage of the wide angle of view by getting up close and personal with your subject or scene. This will create a striking effect that emphasizes context and perspective.
Experiment with different perspectives and play around with the distortion created by the lens. You can use this to create creative compositions that have an exaggerated sense of depth or scale.
For a more impactful composition, use strong lines, shapes, and colors to guide viewers to specific points in the image.
Make sure your horizon is level when shooting landscapes or cityscapes for a more aesthetically pleasing result.