Candid pictures are a type of photography that captures the moment without any posing or staging. People consider them more natural and spontaneous since the subjects aren't aware of the photographer's presence. The result is more genuine photos.
Candid shots can be captured anywhere, with any subject matter, often providing a more intimate glimpse into someone's life. Sometimes, it's a snap of a picture of your friends at a party. Sometimes it's capturing a candid moment with your family. These photos are always memorable.
What is Candid Photography?
Candid photography, also known as "street photography," captures candid moments of everyday life. It differs from posed or staged photography because the subjects are unaware they are being photographed. Often, candid shots occur in public settings, where people go about daily activities. This type of photography requires a keen eye and quick reflexes to capture authentic expressions and unique moments.
As Henri Cartier-Bresson famously said, "The photographer must be swift as a tiger, as supple as a gymnast, as attentive as a hunter, and as patient as a fisherman."
Candid photography often captures the raw emotion and unexpected human connections, making it an artistic and compelling form of storytelling. Some famous practitioners include Vivian Maier and Robert Frank. Overall, candid photography allows the viewer to have a personal glimpse into the lives of everyday individuals.
Is Candid Photography Illegal?
The legality of candid photography can be a tricky subject to navigate. In general, the act of taking a photo is not illegal. However, if the subject or their surroundings have a reasonable expectation of privacy, such as in restrooms or dressing rooms, then taking a photo without permission may be considered an invasion of privacy and could lead to legal consequences.
This also applies to personal information, such as capturing someone's Social Security number or credit card information in a photograph without their knowledge. On the other hand, photographing someone in a public space where they do not expect privacy is generally allowed.
Photographers need to consider the ethical implications of their actions and ask for consent when possible. Whether candid photography is legal ultimately depends on each situation's specific circumstances and context.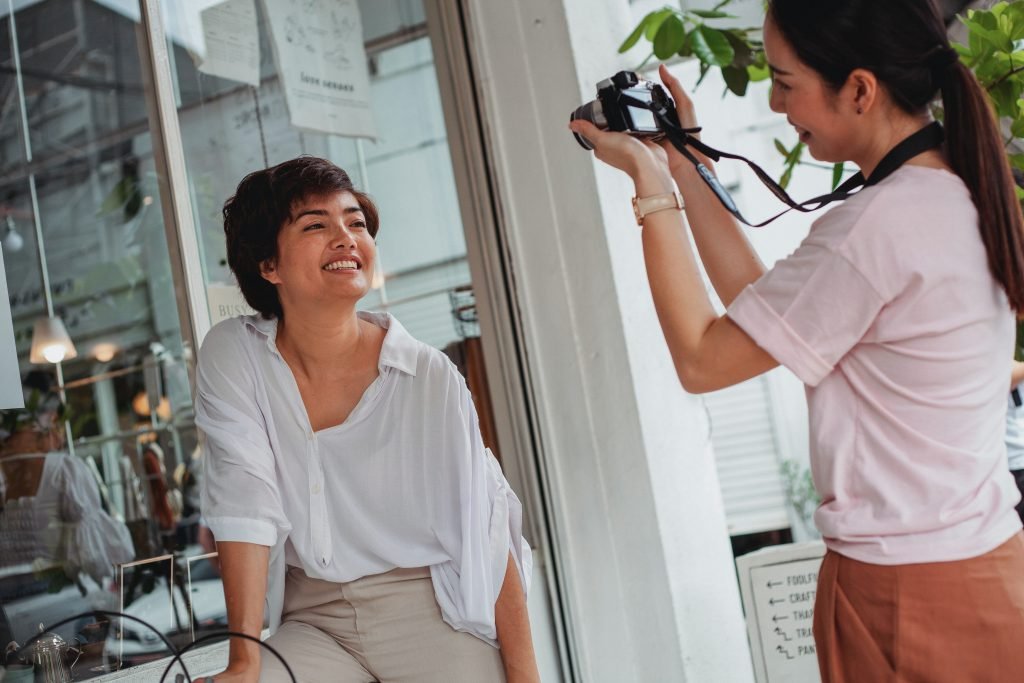 How Do You Take Candid Photos?
When it comes to taking candid photos, timing is critical. The best candids capture natural moments and expressions, so it's essential to be patient and wait for the perfect shot. Try observing your subject instead of constantly snapping photos to capture those spontaneous moments. Anticipate their next move or facial expression, and press the shutter at just the right instant.
Additionally, stay unobtrusive by using a camera with silent mode or shooting from a distance with a telephoto lens. And remember that candid photography isn't just about capturing people – candid shots of animals, objects, and landscapes can also make for stunning photographs. So stay alert, and don't be afraid to think outside the box when finding those perfect candid moments.
Can You Take Candid Pictures Of Yourself?
The term "candid photography" typically refers to capturing spontaneous moments without the subject's awareness, but does that mean a person can't take candid pictures of themselves? In actuality, self-portrait photographers have been using candid techniques for years. You can set up a shot using timed shutter releases and tripods and then quickly jump into the frame before the shutter clicks.
You can also use reflective surfaces like mirrors or windows to capture unexpected angles and expressions. Some argue that self-portraiture is an even more intimate form of candid photography because not only are you the subject, but you also control the composition and timing of the shot. So while it may be challenging, don't underestimate your ability to capture candid moments of yourself.
Why take candid photos?
In a world saturated with posed and filtered photos, something is refreshing about candid shots. These unplanned moments capture genuine emotion and a trustworthy personality, creating a more authentic representation of a person or event.
Candid photos also have a spontaneity that can lead to creative composition and invigorate your photography portfolio. However, it's essential to be respectful when taking candid photos, as photographing someone without their consent can invade their privacy.
Try asking permission before snapping the photo or cropping out identifiable features such as faces to avoid this potential issue. Following this guideline and embracing the natural beauty of candid moments, you can capture stunning shots that tell a unique story.
When to Use Candid Photography?
Candid photography captures unplanned moments in a natural setting without posing or directing the subject. You can use this style of photography to capture the emotion and authenticity of an event or moment.
Candid photography can also add a sense of spontaneity and unpredictability to a photo shoot, making it an exciting choice for fashion or portrait shoots. However, it is crucial to consider the preferences and boundaries of the subject, as candid photography can feel intrusive if not approached with sensitivity. In addition, utilizing candid shots alongside posed photographs can add depth and variety to any photo project.
Ultimately, the use of candid photography should always prioritize the comfort and consent of the subject. Candid photography can lead to unique and impactful imagery when these factors are respected.
Why are candid photos important?
When capturing important moments, candid photography is often the best option. Rather than posed, staged shots that may feel false or forced, candid photos capture genuine emotion and authentic experiences.
They also offer a unique perspective, as they are often taken from unexpected angles or amid a spontaneous moment. Candid photos also can capture unplanned, candid moments that traditional posed shots simply cannot.
These photos can offer a deeper level of storytelling and provide a more honest representation of an event or moment. So next time you take pictures, try moving away from posed poses and capturing candid shots. You may end up with some extraordinary memories.
Conclusion: Taking Candid Photos
Candid photography is a great way to capture natural moments and slices of life. You can use it in many different settings, from weddings to parties to everyday life. While it's not technically illegal, there are still some things you should keep in mind when taking candid photos, like getting permission from your subjects. With practice, anyone can take amazing candid pictures!