A pet photography business can be a great way to make money while doing something you love. But it is important to remember that taking pictures of pets has challenges, like getting the animal to sit still long enough for a good picture.
While pet photography can be similar to starting a photography business in general, there are some bonus considerations you should make. Practice, patience, and creativity are vital to taking better photos of pets. These skills will help you capture your pet's personality in a photo. Additionally, it helps to love animals!
Starting a pet photography business from scratch is an exciting but daunting undertaking. If you're passionate about pet photography and want to make a living taking pet photos, here are some steps you need to take:
Develop Your Skills
Invest time into learning more about pet photography by taking classes, reading books or online tutorials, or finding mentorships available in the field before launching your business. You can be an expert later, but do your best to become comfortable with pet photography before making it a business venture.
Use Your Experience
Do you have a background in animals? Some of the most outstanding pet photographers are zoo workers or rescue foundations. Or even dog walkers or cat sitters. Utilizing what you already know and setting yourself up for success, modeling the animals can help you flex your skills. You will be able to direct your models better than many others because of your experience.
Do Some Research
How much do you know about the animal you're photographing? Dogs and cats may be common household pets, but there is a great deal of diversity among breeds. By researching different types beforehand, you'll better understand how to get each dog or cat to pose for your camera in the way that will best show off their natural beauty.
Take a Class
There are a few different ways that you can learn about animal behavior. You can take classes online or at a local community college, and some businesses ( like vet's offices and animal shelters) offer free classes on the subject. If attending a class is not an option, consider purchasing books on animal behavior to teach yourself.
Build a Rapport
Getting years of experience at the zoo might be challenging if you want to be a pet photographer. However, you can work on building rapport with animals by practicing with your pets or politely asking dog owners if you can photograph their dogs. Word of mouth is a great way to market your services. Pet owners will be thrilled to see the connection you have with their fur children.
Practice Makes Perfect
Practicing is the only way to become great at anything, and with photography, that means finding animals that are hard to control and taking lots of pictures. Using easy-going pets is OK because you will improve that way slowly–you need a challenge. Find friends with high-strung dogs or cats who don't like people and use them to help you practice. Over time, your camera will start feeling like an extension of yourself.
Pet Photography Safety
Your safety and the safety of your subject should be paramount before you launch your business. The legal ramifications if something goes wrong could be costly at best, or worse, someone could get hurt—or even killed. Create a pet photography contract, and get pet-sitter and pet liability insurance if possible.
Communicate Liabilities
It is essential to be transparent about your abilities with potential customers. For example, I am relaxed around dogs since I've had at least one my entire life. Additionally, I know how to interpret their body language and behavior cues to give them the best possible care.
Use Leashes Outdoors
Dogs (and cats) should always be comfortable during a photo shoot, so keep your pet on a long leash unless you're in an enclosed, off-leash area. If there are any accidents, you can edit them out later in Photoshop (which is a secret trick for pet photographers.
Ask Permission
Always get the pet owner's permission before you start taking pictures. Gather as much information about their animal as possible to avoid anything that might scare or upset them. Also, make sure to check for food allergies in case you want to offer treats.
Getting Your Business Out There
If you're serious about making pet photography your business, you must prepare and market your work. Here are some tips for your business to enter the world:
Prepare Your Portfolio
Put together examples of pet photos taken and start building a portfolio so potential customers can see what style and quality of work they'll get when you take pet photos for them. Ask your network of friends and family if they'd like photos of their pets taken pro bono or at a small fee. Work your way up from there with a collection of pet photographs to impress your future clients.
Do Market Research
Before you start handing out market materials, look at your backyard at the need for pet photography. Look at the following:
You can find out the rate of pet ownership in your area by contacting your local council
Do you live in a suburb with many families or a city with posh potential clients ready for their pet's next glamour shots?
How do people usually feel about pets? Are dogs seen as just animals, or are they beloved family members like children?
If you're an animal lover, finding a pet-friendly cafe, a cat cafe, or a restaurant shouldn't be too difficult
However, if you want to go above and beyond, see what kind of local rescues are in your area and offer to take photos for their adoption listings
Set Up a Website
Build an online presence with a pet photography website that showcases your portfolio and offers potential customers details about pricing, packages, and contact information. Include pet-friendly content, news, and tips to engage your target audience.
Remember to showcase your pet photography experience. This should include your studio space or preferred locations. Make sure you have lovely shots of your working space to give perspective to your prospective clients.
Develop Promotional Material
Create business cards, brochures, or flyers that include pet portraits taken by you to help promote your pet photography services. Additionally, you can use social media accounts to reach out to those interested in pet photographs both locally and afar.
Get in touch with fosters and pet rescues on social media sites like Facebook and Instagram. Send them a discount or a deal on pet photography services. You'd be surprised how many people hate taking pictures and need an expert to keep these animals still.
Network
Use local pet events and pet stores as opportunities to promote your pet photography business. Hand out your business cards and brochures at pet-related events like dog shows or rescue fairs, or even offer discounts to those who refer friends looking for pet photography services. You can also post flyers in popular cafes in the area or post an ad in any relevant publications or websites.
Reach out to local pet businesses, pet groomers, and pet care providers to let them know you are available for pet portrait sessions. Additionally, look into entering pet photo contests or exhibiting your work at art galleries to help get the word out about your pet photography business.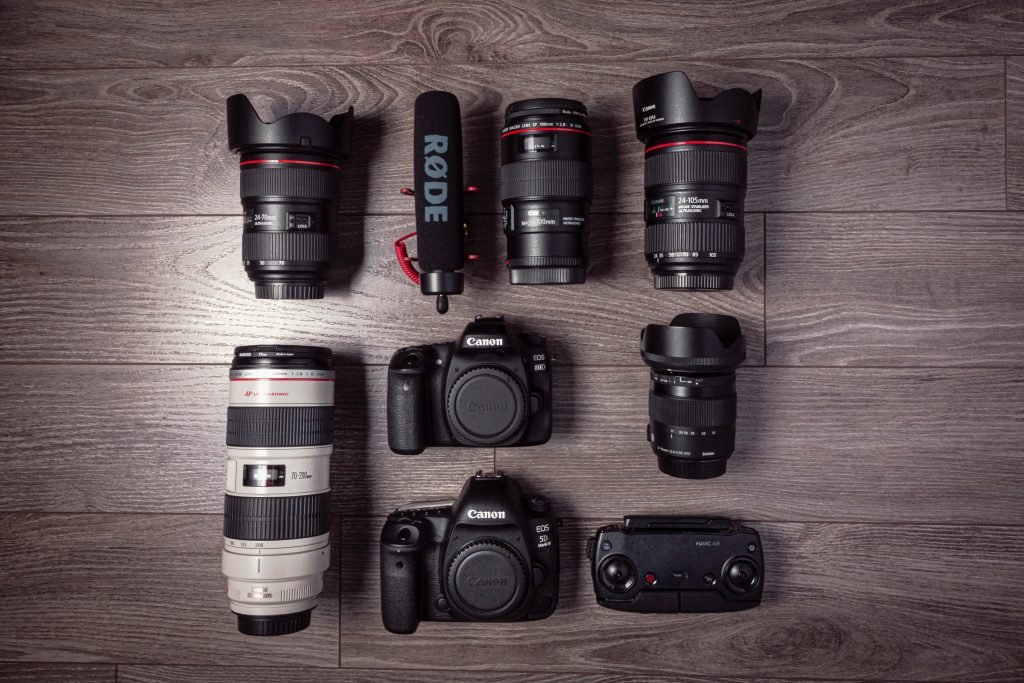 Purchase the Necessary Pet Photography Equipment
Get an understanding of your pet photography needs and buy the tools to make your pet photography a success, such as cameras, lenses, tripods, props, lighting equipment, and other gear.
Like in other types of photography, it is essential to have high-quality equipment when shooting pet photos since you will likely only have one chance to get the perfect shot. At the very least, you'll need a DSLR camera body and autofocusing prime lenses (I recommend starting with a 50mm f/1.4 lens).
It would help if you also had a good zoom lens that covers multiple ranges of focal lengths, high-speed memory cards, and an off-camera flash Speedlight for times when lighting conditions could be better.
Lastly, set up a pet-friendly photography space, so your furry friends feel as comfortable during the photoshoot as possible. This includes having pet treats and toys on hand, setting up crates for cats or small dogs, and reserving some time for pets to take breaks mid-photoshoot.
Find Your Photography Style
Having a distinct style will set you apart from all the other photographers out there. Consider these things to help you develop your style:
Do you prefer to work in a studio (with human-made backgrounds and artificial light) or natural daylight?
Do you prefer your pet's background to be clean and straightforward, or do you like a bit more visual interest in the form of a contrastive background?
Do you prefer the staged shot or a more candid shot?
Do you want a soft or high-contrast feel to your shots?
How do you want your post-production to last?
Do you want to incorporate the pet owners in the shots?
Do you prefer close-up shots or landscape shots?
With you photograph people with their pets?
Before zeroing in on the services you want to offer, you'll need to consider what you're capable of. For example, if your home has no rooms with natural lighting, it's probably not a good idea to market yourself as a pet photographer who takes pictures indoors.
Designing Your Pet Photo Studio
You don't want a beloved pet's picture to be taken in front of a plain wall, do you? Add some contrast. Instead, find a background that will complement your dog. One is sufficient, though more is always better. Keep it simple without being boring. A striped pattern will take away from the subject. A solid color usually works best.
After all, the focus of pictures should be and remain on pets. If you have a colorful background, it will divert attention away from the pet. A good rule of thumb is to use one color contrasting with the animal's fur. This allows you to make them stand out in photos.
Try different backgrounds until you find one that makes your pet look its best. A darker-colored animal will look good against a light background, for example.
Background Materials
The background can be made of paper, fabric, or even cardboard. The paper can vary in size from a significant role to simple fabric like cotton. Of course, you could also use more expensive versions of both materials.
If you opt for paper or fabric as your backdrop, ensure it has some texture. For fabrics, consider using velvet or silk. This will add depth and dimension to your photos. And depending on your budget, don't go out and spend frivolously thinking that more expensive materials mean better quality pictures. You'll be disappointed.
Find the Right Lighting Conditions
The best pet photos are close-ups highlighting the animal's eyes and expression. They're usually taken outdoors or indoors with plenty of natural light on sunny days, with diffused light (avoiding harsh shadows).
Understand Pet Photography Pricing
Research pet photography prices in your area to understand the market and set your rates accordingly.
You can introduce a session fee instead of hourly rates to charge your client. This means you are paid per session, meaning you can come up with your price. In other words, this method is called a sitting fee because the photographer charges for the time spent with the client.
Remember that pet photography is a service, so you should consider factors such as travel and pet-sitting fees. Additionally, pet owners may need more than just pictures of their pet – they may require additional services such as prints and digital images for family members or pet portraits on special occasions like birthdays.
Pet Photoshoot Ideas
You can stick to a plain background with pet photography—other cool ways to make pet photoshoots appear natural and show your style.
Bring in the Toys
Keep some toys around if you want your small clients to feel relaxed and have something interesting in their photos. If the pet isn't interested in any of your toys, ask the owner to bring theirs. Something familiar will help the pet relax in an unfamiliar place.
Pro tip: The pet will relax and focus if you provide them with toys or treats, which comes in handy when you want the pet to look into the camera. All you have to do is hold a toy or treat over the lens.
Shoot in Their World
The key to nailing those stunning pet portraits is getting on their level and being part of their world by acting as though you're telling a story. Instead of just having your subjects posed and standing around, try crouching or lying down (depending on the animal). For example, you might sometimes have to lie down with large dogs, but cats definitely will. If they're caught playing? Even better!
Experiment with Different Surroundings
When taking great photos, one of the worst things you can do is use the same environment repeatedly. So if you want to up your photo game, mix things up by changing your "mini stage" with new details. And remember, in pet photography especially, the pictures should evoke some emotion in whoever is looking at them.
If you want to make pet photos that stand out, focus on making them more exciting. Testing different ideas is the key to success in this photography niche. For example, does a dog or cat have an attachment to a wooden crate, stuffy, or bed? Bring them or shoot them in the owner's home for the whole experience.
Some other fun ideas:
Photographing the pet with its owner
Underwater photos of the pet (but only if they love swimming)
Dress them up! Have a pet fashion show or fun little hats
Catch them in the action while they eat
Conclusion: Running a Pet Photography Business
On any given day, professional pet photographers often work with several animals. Not only that, but they also have their pricing and website sorted out.
To make a living off pet photography, you need more than just quality gear–you need to establish yourself within the community. Any pet photographer will tell you they love animals; it's integral to enjoying the job.
Because of this, when you transition to professional pet photography, you are "communicating" with animals and taking amazing photos. Every day, more people are getting into pet photography, and it's sure to become a popular profession.
With commitment and dedication, it is possible to launch a successful pet photography business from scratch with these basic steps. Keep researching and learning more about pet photography as you go along, and remember to ask for advice from pet photographers who have already gone through the process. Good luck!