Rain photography may not be the first thing that comes to mind when you think about a photoshoot, but it can lead to some of the most beautiful photos imaginable. The rain adds a unique and dynamic element to photographs, and the opportunities for fantastic shots are endless. So don't let rainy weather dampen your spirits or force you to reschedule your shoot. Instead, embrace the challenge and learn to take stunning photos in the rain.
The Magic of Rain Photography
Taking photos in the rain can seem daunting, but once you understand the techniques and equipment needed, you'll find it an exciting and rewarding experience. With the right approach, you can capture the true essence of the rain and create stunning images that showcase the beauty of nature.
Embrace the Sky and Clouds
Rainy weather is the perfect opportunity to take incredible cloud photos. The dramatic sky and ever-changing cloud formations can be a powerful backdrop for your photoshoot. Be bold and play with composition and contrast to create dynamic images that highlight the sky's beauty.
Look for Rainbows and Other Photo Opportunities
Rain often brings the chance to take amazing pictures of rainbows, which can add a magical touch to your photos. Keep an eye out for these colorful wonders and other exciting elements like raindrops, puddles, and reflections. These elements can turn a simple photoshoot into an unforgettable experience.
Gear Up for a Shoot in the Rain
To ensure a successful photo shoot in the rain, protecting your camera gear and keeping it dry is crucial. Waterproof cameras and weather-sealed mirrorless cameras are perfect for shooting in wet conditions. However, if your camera isn't waterproof, don't worry – there are still ways to protect it from the elements.
Use a Rain Cover or Plastic Bag
A rain cover or a simple plastic bag can work wonders in keeping your camera dry during a photo shoot in the rain. Make a hole for the lens and secure the bag around the camera body to create a makeshift rain cover. Remember to keep a few extra bags on hand, just in case.
Bring an Umbrella
An umbrella is essential when photographing in the rain. It protects your camera and lens from getting wet and provides some shade and cover for your subject during the shoot.
Invest in a Lens Hood and Keep Your Camera Dry
A lens hood can help to prevent water droplets from getting on the lens, which could cause blur or distortion in your photos. Make sure your camera is also equipped with a lens hood, and always have a microfiber cloth or towel handy to wipe away any moisture that may accumulate on your gear.
Mastering the Art of Taking Photos in the Rain
Now that you're prepared to shoot in the rain, it's time to dive into the techniques to help you capture stunning rainy-day photos.
Experiment with Shutter Speed
The key to capturing the essence of rain is to play with your camera's shutter speed. Fast shutter speeds will freeze the raindrops in mid-air, while slower shutter speeds can create a sense of motion and blur the falling rain. Feel free to experiment with different settings to find the perfect balance for your desired effect.
Make the Most of Reflections
Rain puddles and wet surfaces offer the perfect opportunity to capture beautiful reflections. Look for interesting shapes and forms in the water, and use them to add depth and dimension to your photos. Feel free to get low and close to the ground to capture unique angles and perspectives.
Utilize Natural Light and Low-Light Techniques
Rainy weather often results in low-light conditions, creating a moody and atmospheric effect in your photos. Learn to work with the available light by adjusting your camera's ISO, aperture, and shutter speed settings. You can also use the flash to add extra light or create interesting effects, like highlighting individual raindrops.
Capture Street Lights and Other Artificial Light Sources
When photographing in the rain at night, street lights and other artificial light sources can add a warm glow and create exciting contrasts in your images. Experiment with different angles and compositions to capture the interplay between light and shadow.
Focus on Portraits in the Rain
Rainy day portraits can evoke a sense of intimacy and vulnerability. Encourage your subjects to embrace the rain and interact with the elements, whether splashing in puddles, holding an umbrella, or letting the raindrops fall on their face. Use a shallow depth of field to make your subject stand out against the blurred background and enhance the overall mood of the image.
Don't Forget about Macro Photography
Rainy weather is perfect for exploring the world of macro photography. Raindrops clinging to leaves, flowers, and other surfaces can create intricate and captivating images. Experiment with different focal lengths and apertures to capture the delicate beauty of these tiny droplets.
Making the Most of Your Rainy Photoshoot
To ensure a successful photoshoot in the rain, keep these tips in mind:
Plan ahead: Check the weather forecast and ensure you're prepared with the right gear and clothing to stay warm and dry during the shoot.
Stay flexible: Rainy weather can be unpredictable, so be ready to adapt your plans and make the most of your conditions.
Keep your gear dry: Use a rain cover, plastic bag, or weather-sealed camera to protect your equipment and ensure it stays in working condition throughout the shoot.
Be patient: Rain can make for challenging shooting conditions, so take your time and be patient as you work to capture the perfect shot.
Stay creative: Rainy weather offers countless opportunities for unique and beautiful photos, so keep an open mind and embrace the artistic potential of your rainy day shoot.
Don't let rainy weather deter you from pursuing your passion for photography. With the right gear, techniques, and mindset, you can capture stunning photos in the rain that stand out and showcase the beauty of nature. Embrace the challenge, and you'll be rewarded with unforgettable images and a genuinely unique photoshoot experience.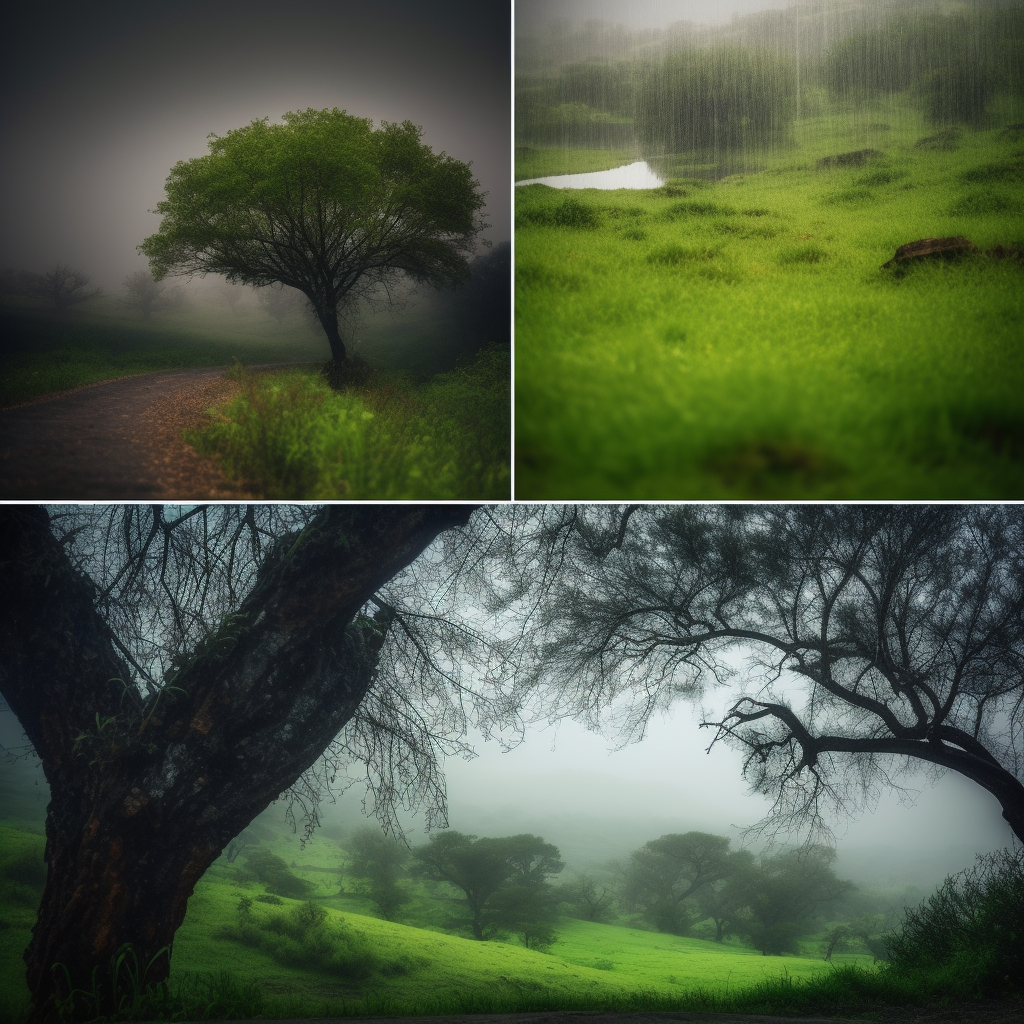 Finding Inspiration in Rainy Weather
Rainy days can bring out the creativity in photographers, as they offer a different atmosphere and a wide array of interesting subjects to capture. Here are some additional ideas for your rain photography sessions:
Capture the Essence of the City in the Rain
Urban settings come to life in the rain, as the wet streets reflect the city lights and create a sense of depth and drama. Explore your city during a downpour, and focus on capturing the hustle and bustle of people going about their daily lives adorned with umbrellas and raincoats. Look for unique details like raindrops on car windows, splashes from passing vehicles, or pedestrians leaping over puddles.
Seize the Beauty of Nature in the Rain
Rain brings out the natural world's vibrant colors and lush textures, making it an ideal time to capture breathtaking landscapes and nature scenes. Head to your local park, forest, or another natural setting, and look for interesting details like dew-covered spiderwebs, rain-soaked leaves, or raindrops dripping from tree branches. Rainy weather can also create stunning waterfalls, rivers, and streams, offering dynamic landscape photography opportunities.
Experiment with Abstract Rain Photography
The rain provides a unique opportunity to explore abstract photography. Focus on capturing patterns and textures from raindrops on various surfaces, like glass windows, metal structures, or even the human body. Experiment with angles, focal lengths, and camera settings to create visually striking images highlighting the rain's artistic potential.
Tell a Story through Rain Photography
Rainy weather can be the perfect backdrop for storytelling through photography. The moody atmosphere and the emotions evoked by rain can help you create powerful and evocative images that convey a narrative. Whether you're capturing portraits, street scenes, or landscapes, use the rain to enhance the emotions and atmosphere of your photos and immerse your viewer in the story you're telling.
Tips for Post-Processing Rain Photography
Once you've captured your rainy day photos, it's time to bring them to life through post-processing. Here are some tips for enhancing your rain photography during the editing process:
Adjust the white balance: Rainy day photos can often have an excellent or blueish tint, which may not accurately represent the scene you captured. Adjust the white balance to create a more natural and balanced look in your images.
Increase contrast and saturation: The low-light conditions of rainy weather can result in flat and dull images. Boost the contrast and saturation in your photos to enhance the colors and make the details pop.
Enhance the rain: Use editing tools like the dodge and burn tools or specialized rain overlays to accentuate the raindrops and make them more visible in your images.
Adjust the dynamic range: Rain photography often results in a limited dynamic range, with blown-out highlights or crushed shadows. Use tools like HDR merging or tone mapping to create a more balanced exposure and retain the details in the highlights and shadows.
Apply creative filters and effects: Rainy day photos are the perfect canvas for applying creative filters and effects, like adding a soft-focus effect, enhancing the reflections, or applying a raindrop texture overlay. Experiment with different styles and techniques to create a unique and visually striking image.
Safety Tips for Photographing in the Rain
As you venture out to capture the beauty of rain photography, keeping safety in mind is essential. Here are some tips to ensure a safe and enjoyable photoshoot in the rain:
Dress appropriately: Wear waterproof and breathable clothing, as well as non-slip shoes, to keep yourself warm, dry, and comfortable during your shoot.
Protect your gear: As mentioned earlier, use rain covers, plastic bags, and other protective equipment to keep your camera and accessories safe from the elements. Carry your gear in a waterproof backpack or camera bag to prevent water damage during transportation.
Be cautious of your surroundings: Rain can make surfaces slippery, so be mindful of where you're walking or setting up your tripod to avoid accidents. Also, avoid shooting in areas prone to flooding or other hazards, and always heed weather warnings.
Be prepared for changing conditions: Rainy weather can be unpredictable, so ensure you have a backup plan if conditions worsen. Keep an eye on the weather forecast, and be ready to adjust your plans as needed.
Stay aware of lightning: If a thunderstorm accompanies the rain, take extra precautions to avoid being struck by lightning. Avoid standing under tall trees, near bodies of water, or close to metal structures. If the storm is severe, postponing your photoshoot for safety reasons is best.
The Benefits of Rain Photography for Personal and Professional Growth
Embracing rain photography can provide numerous benefits for both personal and professional growth as a photographer:
Enhances creativity: Rainy weather forces you to think outside the box and find new ways to capture compelling and unique images. This can help you develop your creativity and artistic vision, which will translate into other aspects of your photography.
Builds technical skills: Photographing in the rain requires a strong understanding of camera settings, lighting, and composition. Mastering these techniques will improve your overall photography skills and help you become more versatile and capable.
Expands your portfolio: Adding rain photography showcases your ability to adapt to various conditions and capture a diverse range of subjects and environments. This versatility can be an asset when seeking new clients or pursuing photography opportunities.
Boosts confidence: Overcoming the challenges of rain photography can be a significant confidence booster. As you learn to navigate the obstacles and create stunning images in less-than-ideal conditions, you'll develop a newfound self-assurance in your photography skills.
Encourages personal growth: Retaining and adapting to challenging situations, like photographing in the rain, can translate into personal growth and resilience. This mindset can help you face other obstacles and difficulties with a more positive and adaptable attitude.
In conclusion, rain photography offers a world of opportunities for photographers to explore their creativity, expand their skillset, and capture breathtaking images. By embracing the challenge of shooting in the rain and mastering the necessary techniques and equipment, you can transform a seemingly gloomy day into a chance to create stunning and unforgettable photos. Remember to stay safe, be prepared, and, most importantly, enjoy the unique experience rain photography offers.