Water reflections can add depth and interest to landscape photography, making it more visually captivating. Water can create a stunning effect in photographs, from mirrored reflections to distorted ones. This article will dive into water reflection photography, exploring the techniques, tips, and equipment necessary to capture the perfect reflection.
Understanding Water Reflections
Before we delve into the technical aspects of capturing water reflections, let's first define what we mean by "water reflections." Water reflections occur when light hits a body of water and reflects onto the water's surface. This reflected light creates an image of the surrounding environment, whether a landscape, building, or object.
Water reflections can be divided into two main types: mirrored and distorted. Mirrored reflections are the most common type and occur when the water's surface is calm and still, creating a mirror-like effect. Distorted reflections, on the other hand, occur when the water's surface is turbulent or rippled, creating a distorted version of the environment being reflected.
Equipment Needed for Water Reflection Photography
A DSLR camera with wide-angle lens is ideal for capturing landscapes and water reflections. The wider angle will enable you to capture more of the scene and create a greater sense of depth. Additionally, a tripod will help stabilize your camera and prevent blur caused by the camera shake.
A top polarizing filter is also essential for water reflection photography, as it helps to reduce glare and enhance the colors of the reflection. If you plan on shooting in water, you will need additional gear, such as waterproof housing and waders, to protect yourself and your equipment.
Composition Techniques for Water Reflection Photography
Composition is an essential aspect of photography, which is no different when capturing water reflections. The rule of thirds, leading lines, and symmetry are all great techniques to use when composing your shot. Additionally, foreground, middle ground, and background elements can create a sense of depth in your photo. Balancing the reflection with the surrounding landscape is essential to create a visually pleasing composition.
Lighting and Time of Day
Light plays a significant role in water reflection photography. The best time to capture water reflections is during the golden or blue hours. These are the hours just after sunrise and before sunset, creating a beautiful glow on the water's surface. Positioning your camera to capture the best light and reflection is essential.
Shooting Techniques
When shooting water reflections, you have two choices: focus on the reflection or the surrounding landscape. Focusing on the reflection will create a more abstract and artistic shot while focusing on the landscape will create a more traditional landscape photo. Setting the correct exposure is crucial when shooting water reflections, as overexposure can wash out the reflection, while underexposure can make the photo too dark. Capturing movement in the water can also add interest to your photo. To do this, use a slow shutter speed and a tripod. Blending multiple exposures can also help to capture a range of tones and colors in your photo.
Editing Techniques for Water Reflection Photography
Post-processing is essential to any photograph, and water-reflection photos are no different. Enhancing the reflection in post-processing can make it more vibrant and impactful. Adjusting contrast and saturation can bring out colors. Removing distractions and unwanted elements from the reflection can create a more visually pleasing photo.
Examples of Water Reflection Photography
Let's take a look at some examples of water reflection photography.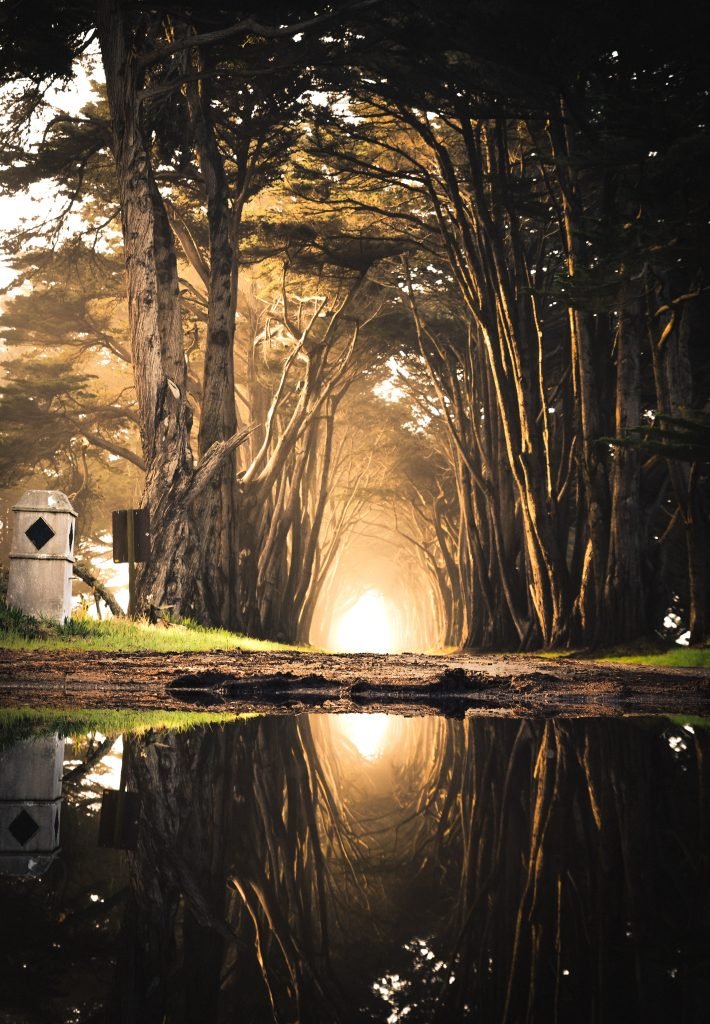 Tips and Tricks for Water Reflection Photography
Capturing the perfect water reflection can be challenging, but with these tips and tricks, you'll be well on your way to creating stunning water reflection photos:
Be patient: Wait for the perfect moment when the water is calm and still, creating a perfect mirror effect.
Attention to weather conditions: Cloudy and overcast days can create beautiful water reflections, while bright and sunny days can cause glare and harsh shadows.
Experiment with different angles and perspectives: Be bold and move around and try different angles and perspectives to create a unique and visually exciting photo.
Use the surrounding landscape: Incorporate elements from the surrounding landscape, such as trees or mountains, to enhance the reflection and create a more visually pleasing composition.
Conclusion: Water Reflections for Landscape Photography
Water reflections can add a beautiful and unique element to landscape photography, creating a sense of depth and interest. Understanding the types of water reflections, the equipment needed, and the composition techniques will help you capture stunning water reflection photos. Remember to pay attention to lighting and time of day, and experiment with different shooting and editing techniques to create a unique and beautiful photo.
FAQ
What are the four pillars of landscape photography?
The four pillars of landscape photography are light, composition, subject, and technique. These elements work together to create a visually appealing and compelling image.
What makes a good landscape image?
A good landscape image should have a strong focal point, exciting foreground, middle ground, background elements, and a clear sense of depth. The lighting should also be well-managed, focusing on color, contrast, and mood.
What are five things that make a lovely landscape photo?
A clear and strong focal point
A sense of depth is created by foreground, middle ground, and background elements
Interesting and well-composed foreground elements
A well-managed light, with attention to color, contrast, and mood
A unique and compelling perspective or point of view.