Elevate your listings into the sky with aerial photography for real estate! Forget the traditional eye-level snaps; today's discerning buyers crave a bird's-eye view. Striking real estate photography helps properties get sold quickly and smoothly.
For many potential buyers, extraordinary real estate photos are the selling point that convinces them to make an offer.
While ground shots remain classic, drones have ushered in a game-changing era. Aerial shots don't just display properties; they tell a story, offering a comprehensive overview in one striking image.
Thanks to the mass production of drones and cutting-edge camera technology, real estate agencies can now showcase their properties in a way that gives viewers a better sense of layout and location.
Ready to up your real estate game? Dive into our aerial photography for a real estate guide and let your properties shine from above!
What Is Aerial Real Estate Photography?
So, before we tell you how to do it, let's explain what aerial photography for real estate entails.
Real estate photography is a specialized genre of photography that captures houses, apartments, and all kinds of property to showcase their value.
Aerial real estate photography is a type in which photos of the property are taken directly from above, thus giving the viewer a broader and more realistic perception of its position, location, and size.
When house hunting, buyers aren't just looking at the home itself. They're keen to grasp the vibe of the neighborhood. Here are some questions prospective buyers might ask:
"What are the neighboring houses like?"
"How's the local area regarding parks, schools, and shopping hubs?"
"What's the proximity to major roads?"
"What's the area's layout?"
"Are there geographical nuances like steep hills?"
An aerial real estate photograph should inform viewers about the property's surroundings. It also gives them a clear perspective of its size and scale compared to other buildings or sections of land in the area.
Sometimes, regular real estate drone photography can come across as warped in size, leading to the impression that a property is much bigger or smaller than it is in real life.
Aerial photographs help real estate agencies capture an available property's size and scale.
How Is Aerial Real Estate Photography Captured?
For real estate marketing, there are several ways to snag aerial shots. Yet, drones reign supreme as the most popular and hassle-free method.
Drones have become extremely popular in real estate advertising due to their unique ability to capture footage from vantage points otherwise inaccessible to regular cameras.
You've likely piloted a drone or two if you're into real estate drone photography. These nifty gadgets aren't just for snapshots; they're video stars!
They enable lifelike virtual tours of properties, offering viewers a vivid sense of a building's ambiance, regardless of their global coordinates.
But if you don't have or want to use a drone, there are other ways to capture stunning aerial shots of the real estate your agency is advertising.
The other method is to hop into a helicopter with a trusty, high-quality camera and take your pictures mid-flight. However, accessing one can be pricey and easier to organize if a real estate agency has one.
What Is The Impact Of Aerial Real Estate Photography?
Just like all types of photography, there is a way to approach aerial photography for real estate that's not purely commercial.
You can find ways to be creative and use the height from an aerial perspective to instigate a more artful and compelling perspective of properties.
Aerial real estate photography doesn't have to be boring or clinical. After all, properties—especially residential ones—should tell a story about home and the potential for living a beautiful life within it.
Houses are places where people form core memories, gather with loved ones, work, sleep, eat, and everything in between. If the property is a family unit, it could also be where children are born, raised, and nurtured to adulthood.
Aerial photography plays a decisive role in a potential buyer's perspective of a property. It gives them insight into the neighborhood they could one day call their own. It tells a story about what life could be like in the captured environment.
Core Impacts of Aerial Photography for Real Estate
Let's look at some of the core impacts of aerial photography for real estate purposes and how it can motivate sales and inspire people to want to learn more about a property.
A clearer understanding of size and scale
It brings attention to the quality and nature of the neighborhood.
It helps people understand the geographical layout of the area.
Indicates neighborhood amenities such as schools, shops, and parks
Creates a sense of real estate agency credibility
Aerial photos aren't just suitable for providing potential buyers with more visual information about the property they're viewing. It also establishes trust with a real estate agency and encourages people to associate them with enhanced credibility and confidence.
Best Practices For Compelling Real Estate Photography
Aerial real estate photography is an excellent opportunity to see properties from new heights and showcase them in ways that aren't possible from ground level.
They offer a different perspective for viewers, create additional marketing opportunities, and can attract an increase in website traffic.
Plus, many real estate website builders make it easy to upload new content, ensuring that your aerial shots are available for prospective buyers to view when a property goes on the market.
There are, however, some important considerations to bear in mind when setting up an aerial shoot, such as:
1. Learn how to operate a drone
Drones are the most straightforward and accessible tools for taking aerial shots and videos of anything, property included. However, operating them does require a bit of time, effort, and licensing.
Knowing how to operate a drone as a pilot successfully is the key to taking great aerial shots.
If you work for an agency, consider suggesting a drone operation course to shoot the best images possible, or look up some videos on YouTube to enhance your understanding of them.
2. Consider cardinal directions
Is the property you captured facing north, south, east, or west? The direction in which the property is built should inform your approach to aerial shots.
3. Feature important landmarks or parks
Location is one of the most compelling and sale-inspiring factors in real estate advertising. If the property you are shooting has a nearby mall, beautiful park, excellent school, or other appealing amenities and features, be sure to include them in your aerial footage.
4. Shoot on a clear day
The weather dictates aerial photography, how outdoor photographs are captured, and the impression you create. The same is true for aerial photography, mainly because it is taken from such a height that cloud cover can completely obscure the property you are trying to capture.
5. Pay attention to detail
Aerial footage captures significant portions of land, often bustling with neighborhood life and activity.
There isn't as much control over the environment and what might appear in the photographs, so it's primarily reliant on candid shots. When shooting aerial photography for real estate marketing purposes, don't forget to pay attention to details. Always make sure there are no off-putting scenes caught on camera!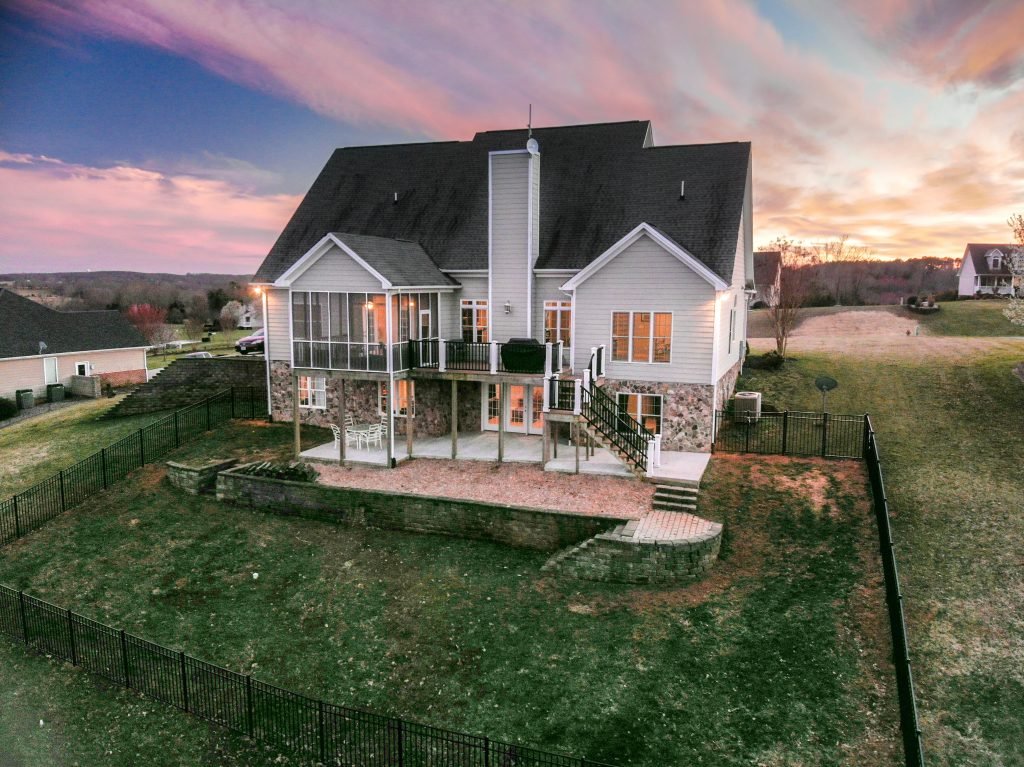 Conclusion: Aerial Real Estate Photography Can Encourage Sales
Aerial photography for real estate isn't just about snapping an overhead shot and calling it a day. It's an art beyond simply capturing a plot of land from the sky.
With the perfect blend of direction, weather conditions, and mindset, you can transform into a real estate photographer who crafts not just images but narratives. Your shots can ignite excitement, evoke inspiration, and sway potential buyers from all walks of life.
FAQ: Aerial Photography for Real Estate
What equipment do I need for aerial real estate photography?
When it comes to aerial photography in real estate, the go-to gear is typically a drone boasting a top-tier camera, like the DJI Mavic.
For those wanting to take things up another notch (and have deeper pockets), helicopters equipped with high-end cameras are an option, albeit a pricier one.
Do I need a license to operate a drone for real estate photography?
According to the FAA, you will need a license or permit (part 107) to operate a drone for commercial purposes, including real estate photography. Make sure to check local laws and regulations.
What are the best conditions for capturing aerial shots?
Ideally, shoot on a clear day with minimal wind. Cloud cover or poor weather can negatively affect the quality of the photographs.
How can I capture the property's true size and scald?
Use proper camera settings and lens corrections to minimize distortions. Also, consider capturing multiple angles to view the property's size and layout comprehensively.
What should I feature in my aerial shots?
Besides the property, consider including nearby landmarks, amenities, or appealing features like parks, malls, or schools to provide context and attract potential buyers.
How can I make my real estate agency stand out with aerial photography?
Using high-quality aerial shots in your listings provides valuable information to potential buyers and establishes your agency as credible and professional. Also, make sure to edit your photos using Lightroom.
Can aerial photography also include video footage?
Absolutely! Aerial video can offer dynamic, lifelike virtual tours, giving potential buyers an even better sense of the property.
Are there any ways to avoid capturing in aerial shots?
Be cautious not to capture off-putting scenes, like construction sites or crowded areas, which could detract from the property's appeal. Always review your shots to ensure they present the property in the best possible light.