Abstract photography: a dance of shapes, emotions, and unconventional beauty. Breaking tradition. it offers a fresh lens on our world. Dive in, get inspired, and reshape your perspective!
Gone are the predictable aesthetics; enter a vibrant realm that reshapes our worldview. Whether you're a master behind the lens or just stepping into this intriguing universe, prepare for an awakening. We were wondering what brews the "abstract" magic.
Are you eager to grasp techniques that make an image more than just a visual? Embark on this journey and unravel the enchanting allure of abstract photography.
History and Significance of Abstract Photography
The journey of abstract photography doesn't start in a vacuum; it has deep roots intertwined with the broader evolution of abstract art.
Pioneers in abstract photography appeared in the early 20th century, drawing inspiration from contemporary art movements. Notably, figures like László Moholy-Nagy and Man Ray championed the idea that photography could go beyond being a mere representational medium.
These early abstract photographers experimented extensively, blurring the lines and curves between the objective and the subjective. Wolfgang Tillmans, Aaron Siskind, and André Kertész later pushed these boundaries further, making abstract photography an integral part of contemporary art.
But why does abstract photography hold such significance? For many photographers, it's a fun and liberating departure from the constraints of realism.
Photographers can explore the depths of their creativity by taking a photo that isn't tied down to a main subject or objective image of reality. This type of photography challenges both the creator and the viewer, asking them to interpret abstract compositions and find meaning in abstraction.
The influence of these many famous abstract photographers has left an indelible mark on the medium, allowing us to view the world in many different, mesmerizing ways.
Understanding the Basics of Abstract Photography
At its core, the definition of abstract photography is an imagery style that doesn't seek to represent our reality straightforwardly. Instead, it emphasizes elements like shapes, patterns, colors, and textures over defined subjects. But what makes an excellent abstract photo?
Let's start with abstraction itself. Abstraction in photography is all about making the viewer see something familiar in a completely new light.
When you look at an abstract photo, you're often compelled to ask, "What am I looking at?" And that's the beauty of it. It takes everyday objects or scenarios and draws away from their conventional context.
For instance, imagine taking an abstract photograph of a close-up of rippling water. Instead of the usual reflection of the sky or surrounding objects, a slower shutter speed might blur the water, making it appear like a shimmering fabric or liquid metal.
This manipulation of shutter speed and depth of field to create abstract elements allows you to get a fresh perspective on something seemingly mundane.
Another fundamental is the use of textures. The texture in abstract photography might come from patterns and textures of peeling paint on a wall, the intricate veins of a leaf, or the interplay of light and shadow on a set of lines in an urban environment.
Abstract photography is one of the purest forms of expression in the photographic arts. It allows you to break away from traditional molds, express yourself, and create art that defies the ordinary, pushing the photographer and the viewer to think outside the conventional frame.
Choosing Your Equipment
Embarking on the abstract photography journey involves a blend of creativity, vision, and the right equipment.
Your gear can make a significant difference in capturing abstract imagery, and knowing what's available can unlock potential.
First, let's talk about lenses. The macro lens is a favorite among abstract photographers. Why? Macro photography lets you get incredibly close-up shots, emphasizing the texture and minutiae that might be overlooked in standard shots.
Imagine zooming into the dewdrops on a spider web or the intricate patterns on butterfly wings; that's the power of macro.
Wide-angle lenses also offer a different perspective, allowing for broader scenes to be manipulated into abstract forms. And if you're aiming for those surreal, dreamlike shots, a tilt-shift lens can be your best friend.
Now, onto the shutter. Understanding shutter speed is paramount. A slower shutter speed, especially in shutter priority mode, can introduce blur and show movement, turning a simple scene into a cascade of colors and patterns.
Your camera's settings also play a crucial role. Exploring different depths of field can render parts of your image in sharp focus while others become dreamy blurs.
Intentional camera movement, or simply moving your camera while taking a shot, can turn a regular scene into an abstract wonder.
Lastly, remember the post-processing tools. Software like Photoshop can further elevate your abstract work, letting you manipulate colors, contrast, and other elements to create stunning abstract images.
Remember, abstract photography tips are mere guidelines; the real magic lies in experimentation and creativity.
Composition Techniques
Diving into abstract photography, it quickly becomes evident that standard composition rules might not always apply, yet some foundational principles remain crucial.
As you embark on this journey, understanding these techniques can guide you, but always remember: abstract art thrives on breaking boundaries.
Rule of Thirds – But Make It Abstract: The rule of thirds is a principle suggesting an image should be divided into nine equal segments by two vertical and two horizontal lines.While this might seem prescriptive, in abstract photography, you can play with this rule to highlight abstract elements, placing points of interest at the intersections of these lines.
Light to Create Depth: The use of light and shadow is paramount. Instead of showcasing the main subject, light in abstract compositions can emphasize shapes and patterns.For instance, consider the gradient effect of light passing through a glass object or how the interplay of light and shadow over dunes can turn a landscape into a landscape abstract of lines and curves.
Play with Patterns and Textures: The world around us is rife with patterns and textures, from the intricate veins on a leaf to the rhythmic repetition of urban architecture. Harnessing these can lead to compelling abstract imagery.An up-close shot of the texture on a tree bark or the repetitive design on a skyscraper can become a world of its own.
Depth of Field Manipulations: A shallow depth of field can blur out parts of your image, focusing only on a specific texture or color. Conversely, a deeper depth of field can give a broader perspective, especially when playing with abstract landscapes.
Camera Movement for Dynamic Shots: Intentional camera movement, whether it's a pan, tilt, or zoom, can introduce dynamism into your shots.By setting a slower shutter speed and moving your camera, you can create abstract imagery filled with motion, transforming ordinary scenes into ethereal compositions.
Isolation and Minimalism: Sometimes, less is more. Taking an abstract photo can mean focusing on the minimal, isolating specific elements to create abstract imagery.A lone streak of color on a canvas or a singular line in an otherwise empty space can speak volumes.
Experiment with Perspective: Abstract photography lets you get creative with vantage points. Shooting from a low angle, directly above, or through objects can give fresh, unexpected takes on otherwise familiar subjects.
In the world of abstract photography, the boundaries are ever-evolving. While these techniques provide a foundation, the most striking abstract pictures often come from experimentation, pushing the envelope, and viewing the world through a unique, creative lens.
Always remember what makes a great abstract image is often a blend of technique and a dash of luck.
Inspiration and Subjects for Abstract Photography
The beauty of abstract photography is that it's ubiquitous. With a keen eye, almost any scene, object, or moment can become a source of inspiration for abstract compositions.
So, where can one find this inspiration, and what subjects are ripe for abstract art? Let's delve deeper.
Nature's Bounty: The natural world is replete with abstract subject matter. From the swirling patterns of a turbulent sea to the microscopic, mesmerizing details of a leaf's surface, nature is an inexhaustible reservoir of abstract inspiration.Take, for instance, the dappling of light through tree branches; it can create a stunning play of light and shadow on the ground, a beautiful scene for abstract work.
Urban Landscapes: The city landscape is a treasure trove for the abstract photographer. From the architectural patterns of buildings to how light reflects off glass skyscrapers, urban settings offer many opportunities.For instance, traffic lights in the rain can become a blur of radiant colors, while a close-up of graffiti can seem like an abstract painting.
Everyday Objects: One of the joys of abstract photography is finding the extraordinary in the mundane. When viewed from a different perspective or in unique lighting, everyday objects can become abstract masterpieces.The repetitive design on your living room rug or the bubbling surface of your morning coffee can serve as fantastic subjects.
Artificial Light and Shadows: Playing with different light sources, especially in low light settings, can lead to some ethereal shots.How a chandelier's light fractures through its crystals, or how multiple light sources cast overlapping shadows, can transform the ordinary into the abstract.
Human Body: The contours, lines, and textures of the human body are rife with abstraction. A close-up of an eye, the silhouette of a dancer in motion, or the intricate detail of a fingerprint can all be transformed into abstract compositions.
Post-Processing and Digital Art: With the evolution of digital tools, the computer itself can be a canvas. Blending, distorting, or manipulating images through software likePhotoshop can yield abstract results as stunning as any naturally occurring subject.
As László Moholy-Nagy once hinted, the potential for abstraction in photography is vast. Abstract inspirations are everywhere, whether outdoors amidst nature, wandering the urban jungle, or simply at home.
The key is to see with your eyes and your imagination.
Post-Processing and Enhancement
The magic of abstract photography doesn't end once the shutter closes. The realm of post-processing is where photographers can further breathe life into their abstract visions.
With digital tools, creating an abstract image can be as much about the work done after taking the photo as the photo itself.
Color Manipulation: Software like Photoshop offers limitless possibilities to tweak, invert, and enhance colors.By simply altering the hue or saturation of an image, you can evoke entirely different emotions or emphasize specific elements of the composition.
Blurring and Sharpening: Adding strategic blur can make some aspects of your photo pop, creating a sense of depth or movement.Conversely, sharpening can highlight the minutiae and textures that might go unnoticed in the original shot.
Cropping for Impact: Sometimes, the most potent part of your photograph is just a tiny segment of the original.By cropping, you can eliminate distractions and hone in on the most compelling parts of your abstract compositions.
Layering and Blending: This technique overlaps multiple photos or textures to create a cohesive image.Blending different layers with varying opacities can create complex, intriguing abstract photographs.
Distortion and Perspective Tools: Warping or skewing certain parts of your photo can bring a fresh, unexpected dimension.You can stretch, compress, or twist your images into something unique by playing with the perspective tools.
Filters and Effects: Many post-processing software options have many filters and effects, which can be customized to achieve the desired abstract look. From grunge effects to light leaks, the options are virtually endless.
Remember, post-processing in abstract photography is about enhancing and transforming, not just correcting. It's an opportunity for photographers to express their vision and creativity further.
While these tools offer endless possibilities, the guiding principle should always be the story or emotion one wants to convey. After all, abstract photography is as much about feeling as it is about visuals.
Challenges and Solutions in Abstract Photography
Like any art form, abstract photography presents its own set of challenges. But, as any abstract photographer will tell you, overcoming these hurdles makes the journey fulfilling.
Challenge: Defining the Subject: Often, the biggest challenge is identifying the main subject in abstract photography. With a clear focal point, photos can feel cohesive and clear.
Solution: Emphasize lines, shapes, and patterns. Use compositional techniques like the rule of thirds to structure your image and guide the viewer's eye.
Challenge: Striking Originality: With many photographers diving into the abstract realm, producing something fresh can seem daunting.
Solution: Continuous experimentation. Every abstract photographer has a unique perspective. Delve into post-processing, try unconventional techniques, or mix different types of abstract methods to create an original piece.
Challenge: Technical Difficulties: Achieving the right blur, light balance, or camera movement can be tricky.
Solution: Practice and patience. Mastering camera settings, understanding how shutter speed affects motion, or how different lighting conditions change a scene is pivotal.
Remember, every challenge is an opportunity to learn and refine your skills in this captivating type of photography.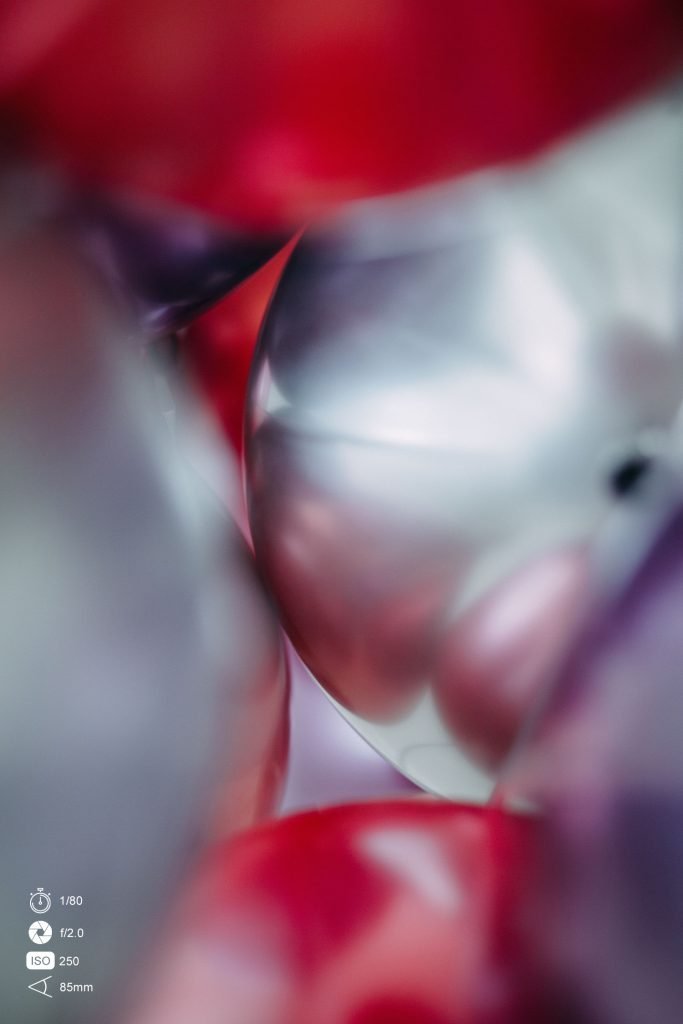 Displaying and Sharing Your Abstract Work
Once you've captured and honed your abstract masterpieces, showcasing them becomes the next vital step. Sharing abstract photography can be a gratifying experience and an avenue for feedback.
Exhibitions and Galleries: Consider hosting or participating in local exhibitions. This traditional approach not only puts your work in front of an appreciative audience but also allows for face-to-face interactions, garnering immediate reactions and critiques.
Online Platforms: Websites like Instagram, 500px, or Flickr are fantastic platforms for abstract photographers. These sites host a global audience, ensuring your work receives diverse feedback.
Hot tip: Use relevant hashtags like #AbstractPhotography or #AbstractArt to increase visibility.
Photography Blogs: Starting a blog dedicated to your abstract journey can be rewarding. It's a place to share your photos and the stories behind them, adding depth to the visual experience.
Prints and Merchandise: Turn your abstract photos into prints, postcards, or merchandise like shirts and mugs. It's a fun way to monetize your passion while getting your work out into the tangible world.
Whichever platform or method you choose, remember that sharing is as much about learning and growing as it is about showcasing.
Embrace the feedback, cherish the compliments, and always strive to see the world through an ever-evolving abstract lens.
Conclusion: Capturing Mesmerizing Abstract Photography
Abstract photography is one of the purest expressions of a photographer's vision and creativity. It challenges conventions, pushes boundaries, and often leaves interpretations open-ended.
Whether its rebellious spirit draws you against representational art or the allure of turning everyday sights into mesmerizing abstractions, this journey is uniquely personal.
As you experiment, remember that every shot, whether successful or not, is a step towards refining your perspective.
Embrace the process, learn from both challenges and successes and above all, let the world of abstract continually inspire and surprise you. After all, in the abstract realm, the only limit is your imagination.