Bird photography is a popular hobby for many and can be a great way to learn about the natural world. Whether you are an amateur photographer or looking to take your skills up a notch, learning to take photos of birds will help you reach your goals. With the right amount of research, preparation, and practice, you'll be able to capture stunning photographs of beautiful birds.
Preparing Your Gear
Camera
When taking pictures of birds, having the right gear is essential. Professional photographers typically use the following:
 High-quality cameras, such as digital single-lens reflex (DSLR) cameras
Offer outstanding image quality
Autofocus capabilities
A range of features allows you to adjust shutter speed, aperture, and ISO
If you don't have a DSLR, you can still get good results with a primary point-and-shoot camera. In some cases, it's better to use this type of camera because the smaller size and weight make it easier for you to move around quickly when trying to capture that perfect shot.
No matter which camera you choose, you must be prepared for inclement weather. Rain or strong winds can quickly damage and ruin expensive photographic equipment. A rain cover is a must if you plan to take pictures of birds in unpredictable weather conditions. But even better would be having a camera with good weather sealing so that even the most extreme weather won't hamper your efforts.
Lenses
The right lens is of the utmost importance when it comes to capturing birds on camera. A telephoto lens with a focal length of at least 200mm will allow you to capture intricate details and small features from miles away. For shots where you want to get up close and personal, lenses with a focal length of 300mm or more are ideal. If you want to get even closer, consider using a teleconverter which will significantly increase your lens's reach. You may invest in a super-telephoto lens for the most detailed shots. With this equipment, you'll be able to capture birds with incredible detail and from great distances.
Tripod
A tripod is essential when taking pictures of birds since they require such a long focal length. A tripod will help you get the correct angle and keep your camera still for a longer exposure time. Additionally, if you're using an SLR or mirrorless camera, having a tripod can help photograph birds in flight. It allows you to quickly track the bird with your lens without shaking the camera too much. If you're shooting in low light, having a tripod will also help you get the correct exposure and keep your images sharp. Look for a lightweight yet sturdy tripod to handle long lenses.
Lighting Equipment
Although not essential, lighting equipment can be helpful when taking pictures of birds in low-light conditions. An external flash or a reflector can provide additional illumination, helping add more depth and detail to your photos.
Accessories
Finally, there are several accessories that you can use to improve your bird photography. Binoculars are great for getting better views of birds from far away. At the same time, a remote shutter release can help minimize camera shake. A lens hood can also help block out any stray sunlight and reduce glare on the lens. Additionally, wearing camouflage clothing or hats can help you blend in with the surroundings, allowing you to get closer without scaring away the birds.
What Camera Settings Should You Use?
When taking pictures of birds, camera settings play an essential role in achieving the perfect photo. To help ensure you get the most out of your bird photography sessions, here are some tips on what camera settings to use:
Aperture
When shooting birds, a wide aperture (f/4 or broader) is the way to go. A wide aperture will help you get the most out of your lenses. It creates a shallow field depth and allows you to blur the background, making it easier to focus on the bird itself.
Shutter Speed
When shooting birds, a high shutter speed is best for capturing motion. For static shots of perched birds, a slower shutter speed (1/200-1/1000) is preferable. However, a higher shutter speed (1/2000 or faster) is recommended if you want to capture birds in flight.
ISO
Keeping the ISO as low as possible for bird photography will help keep your images free of noise and artifacts. If you're shooting with a DSLR, start with an ISO of 200-400 and then adjust as needed.
White Balance
Chances are you won't have time to manually set the white balance when shooting birds in the wild, so it's best to choose an automatic setting such as Cloudy or Shade. This will help ensure that your photos have accurate color and don't appear yellowish.
Taking the Picture
Researching Types of Birds and Locations
Bird photography is a fantastic hobby that can teach you a lot about nature. Whether you are new to taking pictures or want to get better, learning to take photos of birds can help. You must first research which type of birds live near you and where they like to hang out. Popular places for bird photography include parks, wetlands/marshes, beaches, and forests. Taking pictures of birds requires patience and practice. Still, once you get the hang of it, you can capture beautiful photographs!
Researching types of birds and locations is vital before going on a bird photo mission. Common birds such as hawks, owls, gulls, falcons, and doves are the easiest to find with patience. Once you know what kind of birds live in your area, it's time to search for their favorite spots. Parks often have lots of different types of birds that can make great photographic subjects. In contrast, wetlands/marshes provide opportunities for close-up shots due to the shallow water level. Beaches are also good spots because shorebirds tend to migrate through them during certain times of the year, while forests provide plenty of trees for perching or nesting birds.
Set Up Your Equipment
After you've researched and chosen a location to take bird photos, it's time to get set up. Make sure you have everything ready before the birds arrive, so you don't miss any shots. Place your camera on a tripod, or some other stable surface for stability, then adjust its settings if necessary. Use a telephoto lens with an appropriate focal length to get close-up shots of birds from afar. Depending on the situation, you can also use remote shutter releases, lens hood, or other accessories.
Finally, be sure that your camera is quiet when taking pictures by turning on features like a quiet shutter and turning off autofocus motors which tend to make noise. Being stealthy and quiet will help you capture beautiful photos without disturbing the birds.
Taking the Picture
Once you are all set up, it's time to start taking pictures! Watch out for behavior that indicates a potential photo opportunity such as preening or singing. Be patient and wait for the perfect moment before pressing the shutter button. If possible, try to stay still while shooting so as not to frighten away your subjects.
If you can get close enough, take advantage of opportunities to shoot with low-angle perspectives. Or, frame your shots against natural elements like branches and trees, which can be outstanding compositional elements in bird photography.
Quick Tips for Taking Great Pictures of Birds
Use a long lens – the longer, the better when taking pictures of birds. A telephoto lens with 300mm or more focal length will help you get close-up shots.
Look for favorable light – try shooting early in the morning when there is soft and diffuse lighting. This light will make your bird photos look much better than the harsh midday sun.
Be patient – take your time and wait for that perfect moment before pressing the shutter button.
Use focus tracking – this will help keep a moving bird in focus as it flies by
Don't forget about backgrounds – pay attention to what's in the background, as this can affect how good your photos turn out. Look for clean, uncluttered backgrounds whenever possible.
Try to stay low – when shooting birds in flight, try to stay on the same level as them. This will give your photos a more dynamic and exciting look.
Get creative – experiment with different angles and perspectives to get unique shots. Don't be afraid to try something new!
Following these tips, you can take great bird photos in no time. With some patience and practice, you'll soon be capturing stunning images of birds that you can proudly show off! Good luck!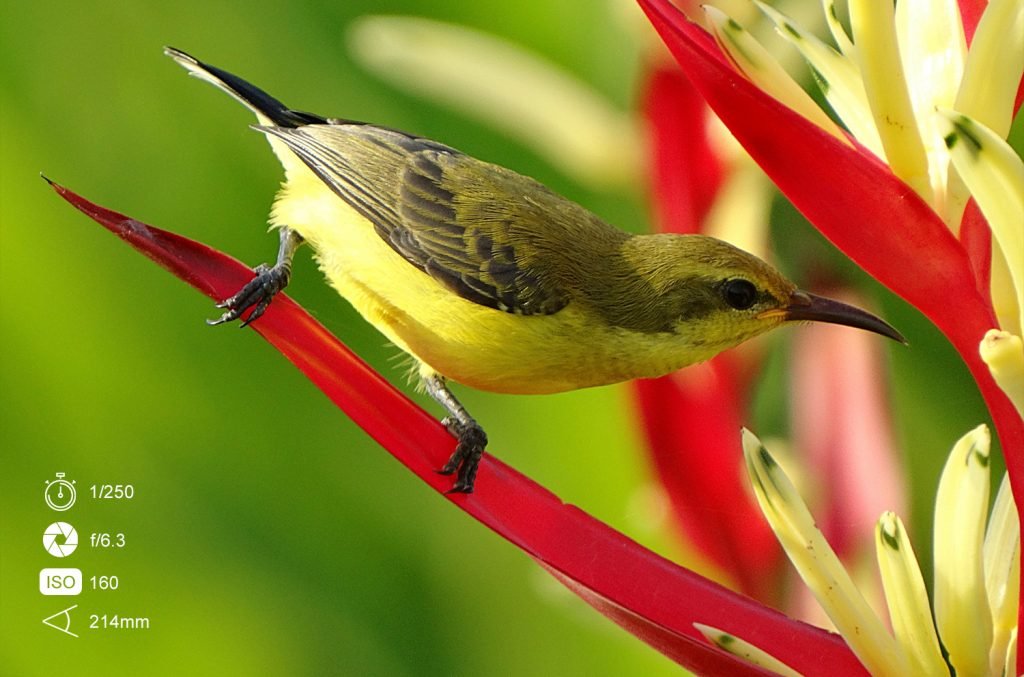 Editing and Enhancing Your Photos
Once you have focused on taking that ultimate shot, editing cannot be overlooked! Editing your pictures should bring out existing qualities, such as colors or contrast. Pay attention, so you're not over-saturating them; otherwise, unpleasant results may ruin all your hard work from earlier phases. Most photographers choose Adobe Lightroom for its ease of use and wide range of options available, whether basic adjustment sliders or advanced image masking tools for complex edits. Its ability to organize large sets can also prove helpful when dealing with an abundance of images after spending entire days outdoors capturing special moments!
There are many ways to enhance your bird photos through editing; it depends on your personal preferences. Some simple edits that can make a big difference include cropping the photo, adjusting the white balance, increasing/decreasing the exposure, or adding some contrast. If you want to get more creative, you can play around with colors, saturation, and vibrance levels or add a vignette effect.
Conclusion: Taking Pictures of Birds
Capturing beautiful shots of birds presents plenty of opportunities. Simultaneously, it's incredibly challenging due to its fickle nature and intense competition among animal photographers vying for those same perfect shots. However, these challenges can easily be overcome through research, planning, practice, and proper editing, providing bird watchers excellent results and creating happy memories along the way!
FAQ
How do I attract birds so I can take their picture?
Taking a picture of a wild bird can be a photographically rewarding but challenging experience. To do it successfully, you want to make yourself attractive to birds by providing them with suitable habitats and resources. To start, consider what kind of foods birds like and ensure that there is an adequate amount of food in the area where you plan to take pictures. Some birds also enjoy nesting sites, and having birdhouses or shady trees would be beneficial. Another critical aspect is ensuring the area is peaceful; noises such as loud music and constant traffic can disrupt the birds and drive them away. When all these elements are combined into one space, you will have provided everything necessary for birds to come in and out quickly. This makes the perfect environment for getting those successful bird photographs!
What are some famous bird photographers?
Bird photography is a trendy hobby, and some photographers have achieved great fame within the field. Two notable bird photographers are Art Wolfe and Tim Laman. Art Wolfe has traveled to over 100 countries and published more than 100 books. His work focuses on capturing the visual beauty of birds and showing the actual behavior of these creatures in the wild. Meanwhile, Tim Laman combines his knowledge as an ornithologist with his past experience as a National Geographic photographer. He showcases birds from all corners of the globe. The book provides an eye-opening look into the wonders of nature. Together, these two photographers have provided unique and captivating images to people worldwide, allowing us to appreciate our feathered friends like never before.
What are some common mistakes people make when taking pictures of birds?
When attempting to photograph birds, there are a few things that novice photographers often need to correct. One of the most common is not using the right type and speed of the shutter. This can result in low-quality images that lack definition or appear blurry due to motion blur. Additionally, people often set their white balance settings incorrectly. They may notice color casts in their final images that editing software can't easily correct. For best results when photographing birds, taking some time to familiarize oneself with the settings on the camera and selecting the correct settings for each shot will ensure beautiful results every time.