The debate on how many megapixels is suitable for a camera has been going on for ages. It's not that the number of pixels is irrelevant. People have an idea in their head about what they think is "good enough" and don't want to spend more money than necessary.
In this article, explore how many camera megapixels are the right amount to have. Let's dig in!
What is a Megapixel?
The Megapixels (MP) of a camera's sensor tell how much detail it can photograph. The higher the megapixel count, the more detail an image may contain. Keep in mind that a 24MP file can produce an 18″ wide print without any upscaling in Photoshop when printed. However, how frequently do you print 12″x18″ photos? Not often, correct?
For most people and content creators, 10 to 24 megapixels should give you what you need. This provides adequate resolution to print a 12″ x 16″ photograph. And for online sharing, 12MP is much bigger than you'll ever need.
What Are the Benefits of Having More Megapixels?
Many photographers love having more megapixels. You can crop into your images without losing any detail or resolution. There are essential details that you couldn't see on the 1:1 scale. They will be visible when you downscale them to smaller dimensions for display purposes (online, slideshow, etc.).
You Can Print Larger Photos
Since there's more data, you won't have to upscale the image to get a bigger print size. 
In other words, some photographers need cameras that can print directly to a large format. They need to print with exceptional detail reproduction. Or, they require considerable cropping abilities from using cameras with 30, 50, or even 100MP.
Most of us purchasing a 50MP camera for the sake of having it is much like buying a Rembrandt original and putting it in your basement. Stick with the most standard (a print)—and you're going to have good photos with high-quality detail.
What Are the Downsides to Having More Megapixels on Your Camera?
Is there a need for $50,000 cameras that can capture 100MP images? Not exactly. These days, 24MP is the typical resolution, yet most photographers don't use their camera to its full potential.
You, the photographer, can also employ lighting and other techniques to extract maximum detail and resolution from a 24MP sensor. The resulting image will only contain 24MP of information and look just as good as a higher resolution pro camera.
Many Megapixels Don't Guarantee Good Work
Too many camera megapixels might not result in improved photographs. When camera makers add too many camera megapixels to their sensors, you lose surface areas. As a consequence, this limits the ISO limit and the camera's signal-to-noise ratio (SNR).
Opt for Better Lenses Instead
If you want your photos to be clear and sharp, you'll need better lenses. This is because camera lenses mainly cover only APS-C or Full-Frame cameras.
Fast prime lenses are the best way to get the most resolution from your camera sensor. Fast prime lenses allow you to create an image with an equal field of view by using a 1/3 longer lens on your camera. You can do this without adding any teleconverter since there will be more pixels in the sensor.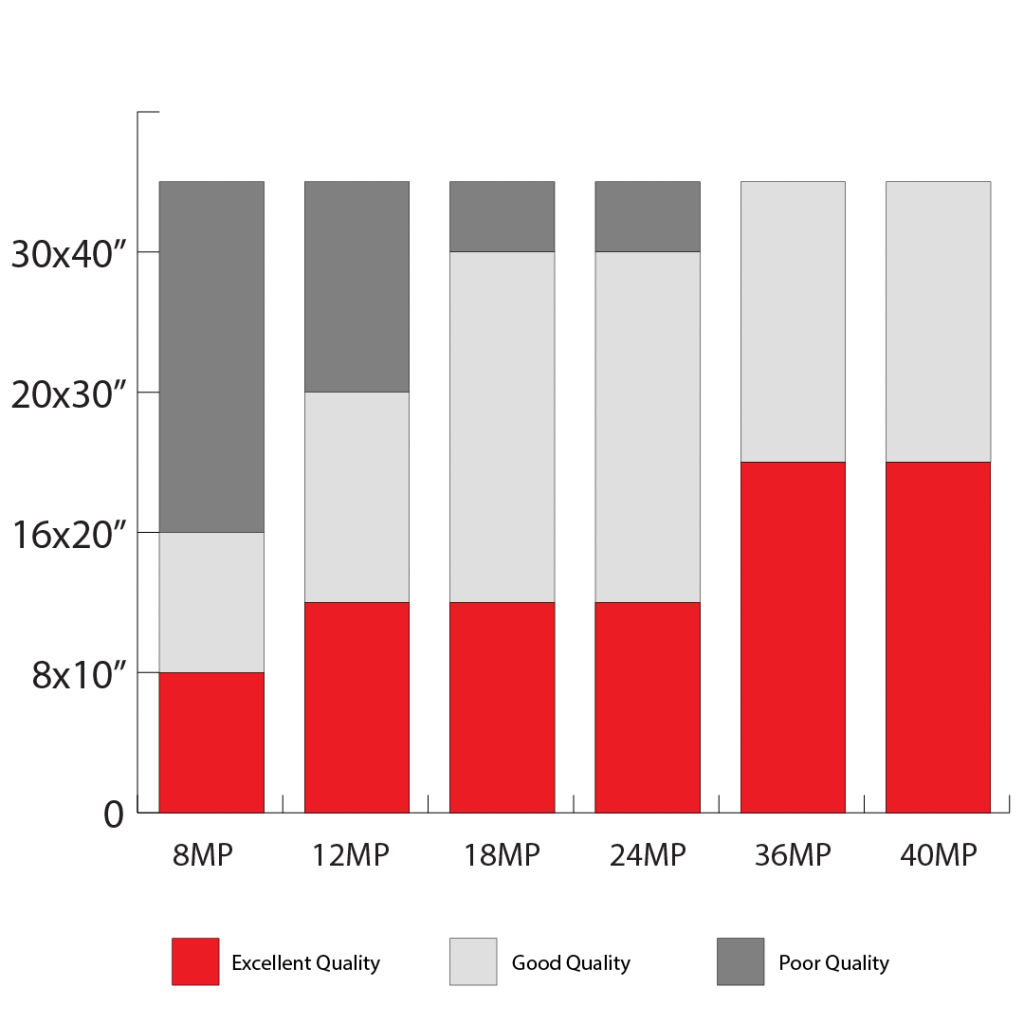 How Many Megapixels Should You Get for a Camera?
The truth of the matter is, if you're printing your photos at 8×10 or 10×12 size, then 12MP will make a massive difference in quality.
Let's say you're only viewing your photos online or through social media channels like Facebook or Instagram. These places are where images get compressed before you upload them. Then you won't likely see any discernible difference between an 8MP and 12MP image without zooming way in. So consider that as you decide how many camera megapixels that you actually need.
Here are some tips for finding a camera with plenty of megapixels for your photography work:
Look at the camera sensor dimensions. You can do this by looking at camera reviews or camera specifications websites.
Search for camera lenses that cover the camera sensors you're interested in using with your camera.
Read reviews and ask questions on forums to gain as much knowledge as possible about specific camera equipment before buying it.
Keep in mind that camera megapixels aren't everything when selecting the right camera for your needs. Please do not choose a camera based on its camera megapixel count alone.
24 Megapixel Camera for General Photography
For general photography, most digital SLRs have more than enough camera megapixels to produce sharp images. However, if you need to crop your shots or print really big, having 20 MP is good enough.
Ten megapixels is more than plenty for 95% of photographers out there regardless of their skill levels and purposes in photography.
Always Stay Within Budget
If you want to buy a new camera, consider getting one with more megapixels than what you currently have. Only do this if the camera is within your budget. Choose one offering features and functionality compatible with your photography style and preference. For instance, you may prefer a full-frame versus cropped.
Conclusion: Camera Megapixels Are Only a Small Part of the Picture
You've likely heard camera reviewers and camera fanatics shout the praises of camera sensor resolution. While it's true that camera sensors with more camera megapixels will create higher-resolution images, it is only one piece of the puzzle when determining what camera to buy.
Many other factors are involved, such as a lens, pixel size, camera build, and chipset. Don't just look at camera specs, though. Compare features and prices to make sure your investment is worthwhile. You'll be glad you did!