Do all camera tripods work with every camera? Are all tripods universal? The short answer is yes, but there is more to it. It's kind of like picking out a tool from the hardware store—they all have a different purpose. You may need a specific type of tripod depending on the kind of camera you have.
There are a few different types of camera tripods available on the market. Each one has its own set of capabilities. In this blog post, we will look at the different kinds of tripods available and discuss whether or not they are universal.
What Tripods Are and What They're Used For
A tripod is a device that attaches to the camera and helps to keep it stable, especially in low-light situations or when shooting video. Tripods come in various shapes and sizes, but all have three main legs that help to prop up the camera. You can use a camera tripod for landscape photography, video recording, and even selfies.
Tripods are a necessity for many photographers. And they allow you to take pictures without having any noticeable camera shake. This is especially important when shooting in low-light situations or slow shutter speeds. You might feel yourself needing one if you're, for example, an action sports photographer. They typically need to capture fast-moving subjects at high resolutions.
What Makes Camera Tripods Universal?
Almost all modern tripods have a 1/4 inch male thread on which you can attach your camera. This also works for consumer and prosumer cameras, so anyone who wants to take pictures with the latest technology has nothing stopping them!
But, just because you have a tripod doesn't mean it'll work for what your trying to do. There are several other factors that need to be considered before making this purchasing decision and often times we don't think about them until after our purchase has been made!
How Many Types of Tripods Are There on the Market?
Camera tripods are not one-size-fits-all. You'll likely need a specific camera tripod for your camera. There are several different types of tripods available on the market, and each one has its own set of capabilities. The five main types of tripods are:
Pocket Tripods
Sometimes, the right shot comes when you least expect it, and the only answer is a lightweight tripod. These small tripods come in less than five inches when folded and can easily travel with you because they fit in practically any bag.
Let's say you're at a party and you don't want to lug around a typical camera; pocket pods make themselves useful. Do note that these pods can only hold the weight of a small digital camera. Pro tip: find one with an adjustable head to keep your smartphone still when capturing memories.
Pocket tripods are handy for:
Small and light cameras, like an iPhone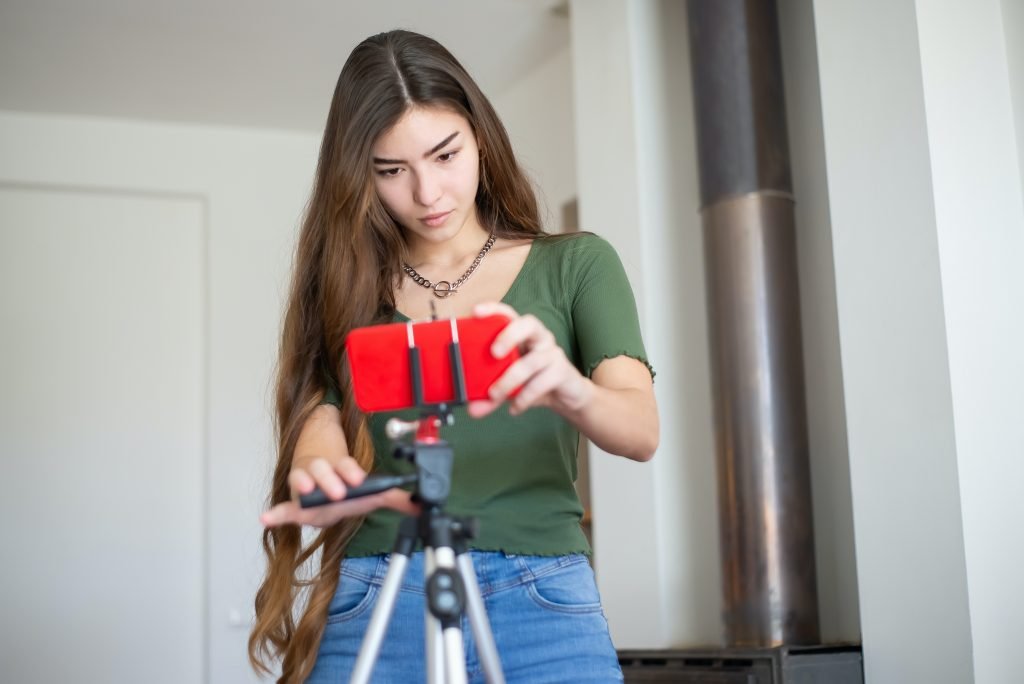 Tabletop tripods
Suppose you're looking for a tripod that fits conveniently on a tabletop for group shots. In that case, you will find these tripods particularly useful. Light, compact, and easy transport make tabletop tripods ideal for travel. Set up the self-timer, attach yourself to the photo, and you'll be in it too.
Pro tip: get stability while shooting pictures of ground-level subjects like flowers. Turn your tabletop tripod upside down and place it against a wall. This camera tripod goes no higher than 12 inches from the floor. It's perfect for ground-level subjects. Note: only use a smartphone camera or smaller camera for this tripod type.
Tabletop tripods are handy for:
Small cameras/smartphones
Travel Tripods
The portability of travel tripods makes adventuring easy. They collapse to 22 inches or less and can fit on any carry-on. They're great for getting above-ground shots with your camera and still collapse to an easy-to-carry size. Take your travel pod on hikes, bikes, and everywhere between. This particular tripod can fit a digital or film camera, kit lenses, and modest zoom lenses.
If video is more your thing, you can use a travel tripod for videoing out on your adventures. Do be cautious with long zoom lenses or telephoto lenses that are front-heavy. You don't want your tripod to tip over and damage your camera, do you?
Travel tripods are handy for:
Medium Duty Tripods
You can use standard medium-duty tripods to bridge the gap between portable and studio tripods. This type is heavier, sturdier, and more rugged than portable tripods. You can even get overhead shots with this tripod.
You can always buy a different head to create a DIY configuration that works with your type of work and camera model. Look for a sturdy base that is lightweight if you plan on transporting this type of tripod; usually, carbon fiber legs work well. Though, they can cost a little more than the standard tripod.
Medium Duty tripods are handy for:
Sturdy/Studio Duty Tripod
Professionals and commercial photographers use a specifically super sturdy and studio-quality tripod. They tend to address a specific need. Most of these pods don't move around and need any particular head. Medium and large format cameras suit this type of tripod. Yet, digital cameras have all but made this type of tripod unnecessary. Save your pennies on this one unless you run a commercial studio.
Studio tripods are handy for:
How to Choose the Right Tripod for Your Needs
Now that you know the different types of tripods, how do you choose the right one for your needs? Here are a few tips:
Think about what type of camera you have and what shots you want to take. If you have a small digital camera or smartphone, a pocket tripod or tabletop tripod is probably best for you. A travel tripod might be better if you have an SLR or medium-format camera. And if you're looking for something more heavy-duty, go with a studio tripod.
Consider where and when you'll be using your tripod. If you need something lightweight and compact that can easily fit in your carry-on, go with a travel tripod. Or, if you need a tripod that can withstand wind and other elements, go with a medium to heavier duty tripod.
Think about your budget. Not all tripods are equal – the more features and capabilities you want, the more you'll pay for it. So decide what's important to you and find the tripod that fits those needs.
Conclusion: Are All Tripods the Same?
So are all camera tripods universal? The answer is yes and no – there are different types of tripods available to suit various needs. But by knowing what type of photographer you are and what you will be using your tripod for, it becomes easier to choose the right one for you. Happy shooting!