Filters can significantly enhance your images by altering the light that enters your camera lens. Various camera lens filters are available, each serving a different purpose. In this guide, we'll discuss the common types of filters and their applications.
Protecting Your Lens: An Inexpensive Solution
Lens filters are an affordable way to shield your lens from scratches, dust, and other damage. When you're outdoors, your expensive lens is at risk of being damaged by dirt, sand, or dust. A protective filter can help ensure that no foreign matter will damage your lens while you shoot. Some photographers even recommend always having a filter on every lens to care for your lens.
Enhancing Image Quality and Creativity
Lens filters can improve your photos in several ways, including:
Minimizing glare and reflections
Boosting colors
Regulating the amount of light entering the lens
Creating special effects
Filters come in different types and uses, so it's essential to know about lens filters used for various purposes. Each filter type provides a specific impact, which can improve the final appearance of an image. Let's explore some popular filters and their uses.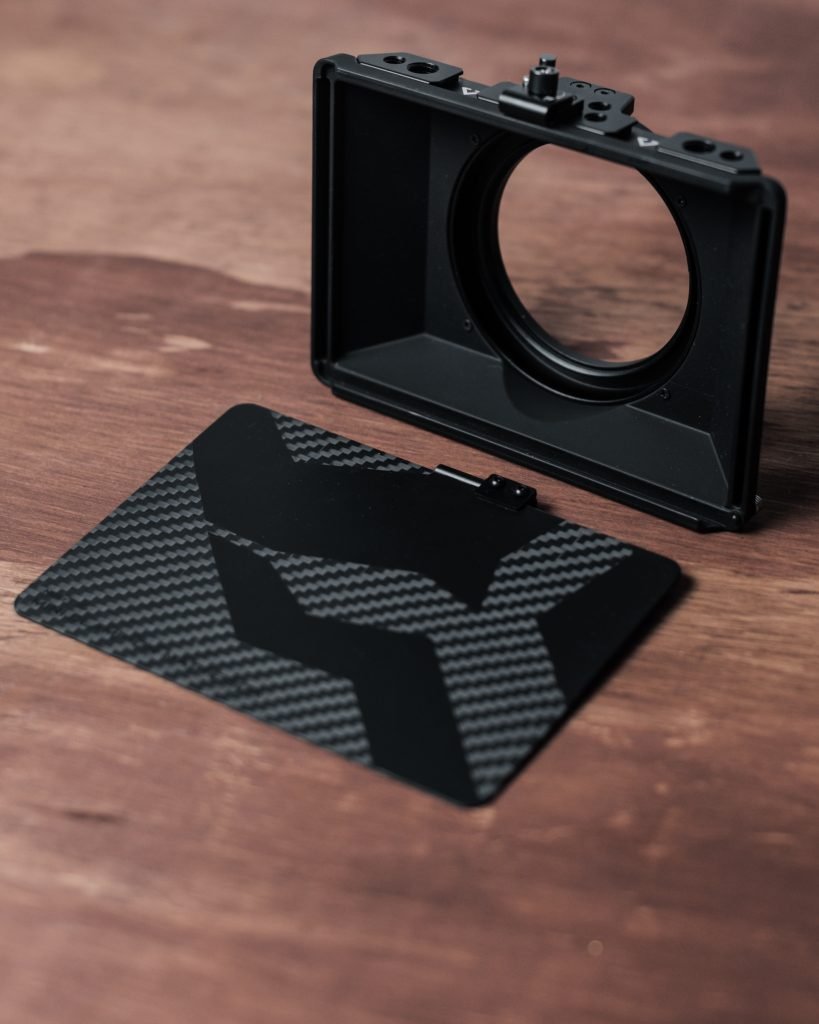 Filter Holder Systems and Square Filters
Filter holder systems and square filters offer flexibility in using multiple filters simultaneously. The filter holder attaches to the front of the lens using a filter thread, and square or rectangular filters slide into the holder. This system allows you to stack ND, graduated, and color filters without needing to screw multiple filters onto the front of your lens.
Circular Polarizer Filter: Perfect for Sunny Days
Circular polarizing filters work similarly to polarized sunglasses, blocking out glare from various surfaces. They're great for eliminating or controlling reflections from water, glass, paint, leaves, sky, buildings, and streets. Polarizing filters can also reduce haze and improve color saturation in your images.
A polarizing filter is beneficial when the lens is pointed 90 degrees from the sun, as it maximizes the polarizing effect. You can rotate the filter to achieve the desired effect until you reach the optimal result.
UV Filter: Reducing Haze in Outdoor Shots
UV filters, also known as skylight filters, can reduce haze in photos by blocking out UV rays. They're beneficial when shooting landscapes or exposing your lens to potential damage. Remember that it is crucial to choose high-quality filters, as inexpensive UV filters might compromise image quality.
Neutral Density Filters: Controlling Exposure
Neutral density filters (ND filters) are helpful when shooting video or using slow shutter speeds with still photography. They can create silky smooth water effects in landscape photography and are ideal for waterfalls, streams, lakes, and oceans. Long exposures with ND filters can also create ethereal streaks in a hazy sky or remove moving objects from a shot.
Graduated ND Filters: Shooting with Longer Exposures
Graduated ND filters (GND filters) allow you to shoot with longer exposures without overexposing the sky while keeping the ground in focus. They consist of opaque glass or resin that is only partially darkened, letting less light into the camera. The filter gradually transitions from dark at the top to clear at the bottom, allowing balanced exposure.
Special Effect Filters and Other Types
Special effect filters, such as starburst, soft-focus, and infrared filters, can add unique touches to your images. Macro lens filters can achieve close-up shots without investing in a dedicated macro lens. On the other hand, black and white filters help enhance contrast and tones in monochrome photography.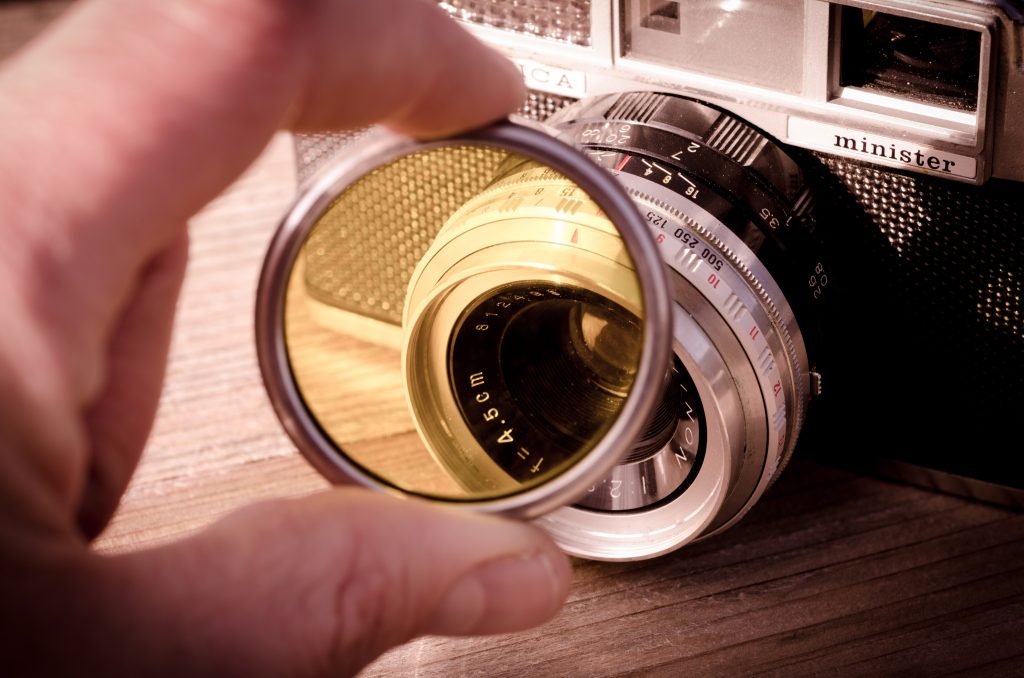 Color Filters: Enhancing Colors and Mood
Color filters can alter the colors and mood of your images. They can enhance specific colors or add a color cast to the entire scene. For example, a blue filter can create a fantastic, moody atmosphere, while a red filter can make a sunset appear even more dramatic.
Understanding Filter Quality and Materials
Filters are made from various materials, including glass, resin, and plastic. High-quality filters are made of glass and provide better image quality. In contrast, resin and plastic filters are generally more affordable but may offer a different level of optical performance.
Investing in good-quality filters is essential, as lower-quality filters can degrade your images, causing unwanted artifacts, lens flare, or reduced sharpness.
Combining Filters for Maximum Creativity
You can use multiple filters simultaneously to create unique effects and enhance your images further. For example, you can combine a polarizing filter with a graduated ND filter to reduce glare and balance exposure simultaneously. Filter holder systems make it easy to stack and combine filters in your photography work.
Tips for Using Filters in Digital Photography
Always check the lens's diameter to ensure the filter fits correctly.
Keep your filters clean and free from dust, fingerprints, and smudges.
Consider using a filter holder system for increased versatility and ease of use.
Test different filters to determine which ones work best with your style and type of photography.
Conclusion: Why Do Photographers Use Filters?
Filters are a powerful tool that can significantly enhance your photography by altering light, reducing glare, controlling exposure, and adding creative effects. By understanding the different types of filters and their uses, you can take your photography to new heights and create images that truly stand out. Always invest in high-quality filters and care for your lens to ensure the best results. Happy shooting!
FAQs About Lens Filters for Photography
What filters do photographers use?
UV filters
Polarizing filters
Graduated neutral density filters
Strong neutral-density filters
Do professional photographers use lens filters?
Yes, professional photographers often use filters to enhance the appearance of their photographs. They have a wide variety of filters to choose from to improve their images in-camera and can also create presets for post-production.
Can I leave a UV filter on all the time?
There is no definitive answer to this question. Some believe placing an additional glass layer in front of the camera lens might reduce image quality or cause a lens flare. Others prefer to keep UV filters on their lenses at all times.
Do I need filters for photography?
Filters are not strictly necessary for photography, but they can significantly improve your images and offer various creative effects. Using filters allows you to achieve better exposure control, minimize glare and reflections, enhance colors, and create unique effects that might be challenging or impossible to replicate in post-processing.