From a beginner in the photography business to someone who occasionally takes pictures for fun. To someone admiring the pictures taken by a photographer. To someone who has just the slightest interest in photography, this question is one that surely gets asked and also piques the curiosity of lots of people. How are professional photographers able to take such great pictures? How does their photography gear look like? What kind of camera is it that they use to capture such amazing images? The list is pretty much endless.
You are most likely reading this post because you are itching to find an answer to the third question above so, we would focus on just that. Not only does this post contain some of the cameras you are bound to find in the photography gear of a pro photographer, but it also would enlighten you on what features they possess to have earned that space. Let's get right to it.
The cameras pro photographers use
Before getting right to the core of this post, it is important to note that the cameras used by pro photographers would vary across niches. For example, the camera a pro sports photographer would use is sure to differ greatly from that a pro travel photographer would use. As he/she would have to deal with capturing images in motion, you would find that a pro sports photographer considers how effective a camera is at capturing fast-moving objects a huge criterion when it comes to choosing a camera. A pro travel photographer, on the other hand, would choose a camera with a sturdy and compact body over one that captures images fast as such a camera is more likely to survive the hustle and bustle that comes with traveling.
On an overall basis, though, most pro photographers make use of Canon, Nikon, and Sony DSLRs and mirrorless cameras. The reason for this isn't farfetched. These three brands are high up there when it comes to the best cameras in the photography industry. DSLRs might be the more popular kind but there are still pro photographers who would choose a mirrorless camera over a DSLR. So, in most cases, it all boils down to factors such as individual preferences and the niche of photography they are in. This is why this list contains both kinds of cameras. That being said, that pro photographer whose photos give you a jaw-dropping effect most likely has one or more of the following cameras in their photography gear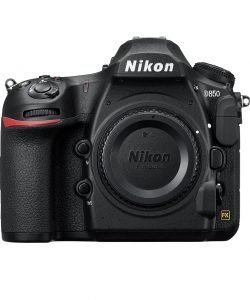 1. Nikon D850
 Check Price
Pro photographers sure love this one as it not only has a distinctive resolution, but it also has speed with a maximum continuous shooting speed of about 9fps. What's more, it boasts of a resolution of 45.7 megapixels. Some of the other features that earn it a spot on this list include
It allows for silent shooting. For shooting events in which using a noiseless camera is of utmost priority, it's the Nikon D850 to the rescue! It comes with a silent photography feature that allows it to capture those incredible images without as little as a sound or a vibration.
Fast processing. As if it were not enough that it has a high resolution, the Nikon D850 processes all the 45.7 megapixels in good time.
It captures the little details. Sometimes, the beauty is in the little details and this camera delivers just that. All thanks to its low ISO that enables it to have a wider range and capture the little things that matter.
Shooting in low light is made easier. Trust pro photographers to go for the camera that allows them to shoot in low light, down to -4 EV.
These are only some of the pros that the Nikon D850 offers. There's a whole lot more to be enjoyed which explains why it is a top choice for many pro photographers.
2. Canon EOS 5D Mark IV
 Check Price
This camera does not only get the pro work done for pro photographers, but it also gives them value for their money. Aside from continuously dishing out topnotch images, it is also very durable and versatile as lots of pro photographers across different niches make use of it. Here's some of what it has to offer
A 3.2 inches responsive touch-screen LCD monitor. With this, photographers can make use of both buttons and touchscreen to get the job done. This way, they don't have to deal with buttons if they don't fancy using it when doing certain tasks and vice versa.
The buttons are highly customizable. This would go a long way in making navigating through options a lot easier.
It comes with inbuilt Wi-Fi connectivity. Sharing images on social media and carrying out other internet-related activities just got easier! The Canon EOS 5D Mark IV is compatible with both Android and iOS devices
Multi-Shot Noise Reduction feature. This feature allows the camera to capture images and process them with minimal noise.
Focusing on images is made faster and easier. The camera highlights the focus points of images in red and it does it quickly.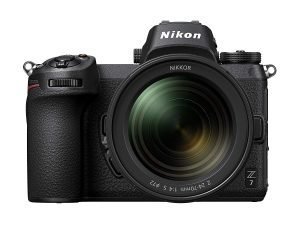 3. Nikon Z7
 Check Price
This is one mirrorless camera that gives its DSLR counterparts a run for their money. Its technology is very similar to that of the Nikon D850 already described above. Interestingly, it is the first mirrorless camera from the Nikon brand but its near-perfect features make it seem like they've been produced earlier versions.
Here are some of its unique features
It comes with a 45.7 megapixels resolution that is sure to give a sharp and stellar image quality
It allows for both Bluetooth and Wi-Fi connectivity that makes sharing images and other tasks a walk through the park
It is relatively lightweight. Compared to DSLR cameras like the aforementioned Nikon D850, this camera is less bulky and easier to move around with. While the D850 weighs about 1005g with its card and battery intact, the Z7 weighs only 675g when its memory card and battery are inserted.
It has a tilting mechanism that makes it easy to shoot at very high or low angles. Its 3.2-inch touchscreen also works to enable this
Amazing autofocus system. The Nikon Z7 boasts of an autofocus system that has a wide frame coverage that boosts its flexibility. With this, pro photographers are sure to get a good grip when it comes to autofocusing on images the fast and easy way.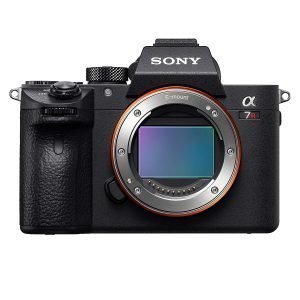 4. Sony A7R III
 Check Price
This is yet another mirrorless camera favored by many pro photographers. With 42.2 megapixels, a maximum continuous shooting speed of 10fps, this camera is one that gives value for money. Of course, it has a whole lot more to offer than those features. Here are some other things there is to love about the Sony A7R III mirrorless camera
All thanks to the superb combination of its FPS spec and megapixels, it produces very excellent pictures and it does it fast!
It has a 3-inch tilting LCD touchscreen
Shooting noiselessly is guaranteed. The Sony A7R III mirrorless camera comes with a completely silent mode that pro photographers cannot simply ignore
Built-in Bluetooth and Wi-Fi.
The icing on the cake? It has a Pixel Multi-Shooting mode. In this mode, the camera can take multiple shots in quick succession. However, in a bid to ensure that each shot is better than the next, there is a 1-pixel shift between each shot. What the 1-pixel shot does is that it causes shot B to have a higher resolution and better overall quality than shot A.
What pro photographer would want to say no to that? You guessed right. Not many.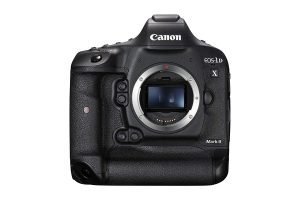 5. Canon EOS-1D X Mark II
 Check Price
This one is a favorite among many professional press, action and sports photographers. It is a DSLR with 20.2 megapixels and a max video resolution of 4K. It also comes with a 3.2-inch LCD touchscreen. If you are wondering why it is a favorite for these pro photographers, here's why
It has a maximum continuous shooting speed of about 14fps. It goes as high as 16fps when placed in the Live View Mode. It doesn't matter how fast that athlete could be. The Canon EOS-1D X Mark II is sure to capture excellent images.
Poor lighting has got nothing on it. We can all agree that mot pictures look better in a well-lit environment. However, in a case where there is poor lighting, the Canon EOS-1D X Mark II still captures sharp and detailed images.
Its image processors are specially built to ensure a high-processing speed
It has a standard ISO range that allows for it to capture even the most subtle details
With its weather-resistant magnesium-alloy body, its durability and ability to survive under extreme conditions is guaranteed.
Just as a camera is no good without a photographer, so is a photographer no good without a camera. There are lots of cameras out there that anyone from a photography hobbyist to a professional can choose from. Whether it's based on quality, budget, the purpose of use, or simply individual preferences, the cameras that photographers choose to work with cuts across the many ones available.
When it comes to pro photographers, though, the 5 cameras above are some of the top choices. With the features highlighted above – which are only some of what makes them stand out- and the fact that they all give value for money, it is evident that they all do deserve their spots in this post.