From the earliest days of man, images have captured memories and moments significant to all individuals. Photography is one of the most important tools we have to document history. It allows us to see beyond what our eyes can see and to share stories that would disappear otherwise.
In this blog post, explore the importance of photography in documenting history. You'll learn why it is such an essential tool for telling stories that matter.
Photographs Provide a Visual Record of Events
One of the most important aspects of photography in documenting history is its visual record of events. Documentation allows us to see things that we may not have otherwise been able to experience.
For example, photographs from the Civil War provide a unique perspective on this period that you cannot find in any other medium. They allow you to see the faces of the people involved in this conflict. You can also get a greater understanding of their experiences in a way that would not be possible without these images.
Another reason why photography is so important in history is that it allows historians to study the past in a unique and personal way.
When looking at a photograph, you aren't just seeing an image of a moment in time, but you also see a glimpse into the lives of the people there.
Photography can be a compelling way to connect with history and understand the experiences of those who came before us.
Lewis Hine/ The U.S. National Archives
For example, when looking at this photo of child laborers in the early 20th century, you are not just seeing a picture of children working in a factory. You also see a glimpse into their lives and the difficult conditions they had to endure. The photo allows you to empathize with these children and better understand the history of child labor in America.
Photographs Help Us Connect With Our Past
Another important aspect of photography is that it helps you connect with your past. This is because photographs provide a glimpse into people who lived in different times and places.
They allow us to see how people lived, what they looked like, and what was important to them. This can be incredibly valuable in understanding our history and the history of the world around us.
For example, I was looking at photographs from the early 20th century. It can guide understanding the changes that occurred during the period and why they were important.
Looking at this photograph of a family in the early 1900s, we can see how different life was for them compared to our own. We can see the clothes they wore, the way they posed for the photo, and the expressions on their faces. This allows us to connect with this family and understand what life was like for them.
Photographs Tell Powerful Stories
They can tell the story of an individual or an event. They say a picture is worth 1,000 words. And history is full of stories that might have disappeared if not for the power of photography.
Some of the most famous historical photographs are from wars or other significant events.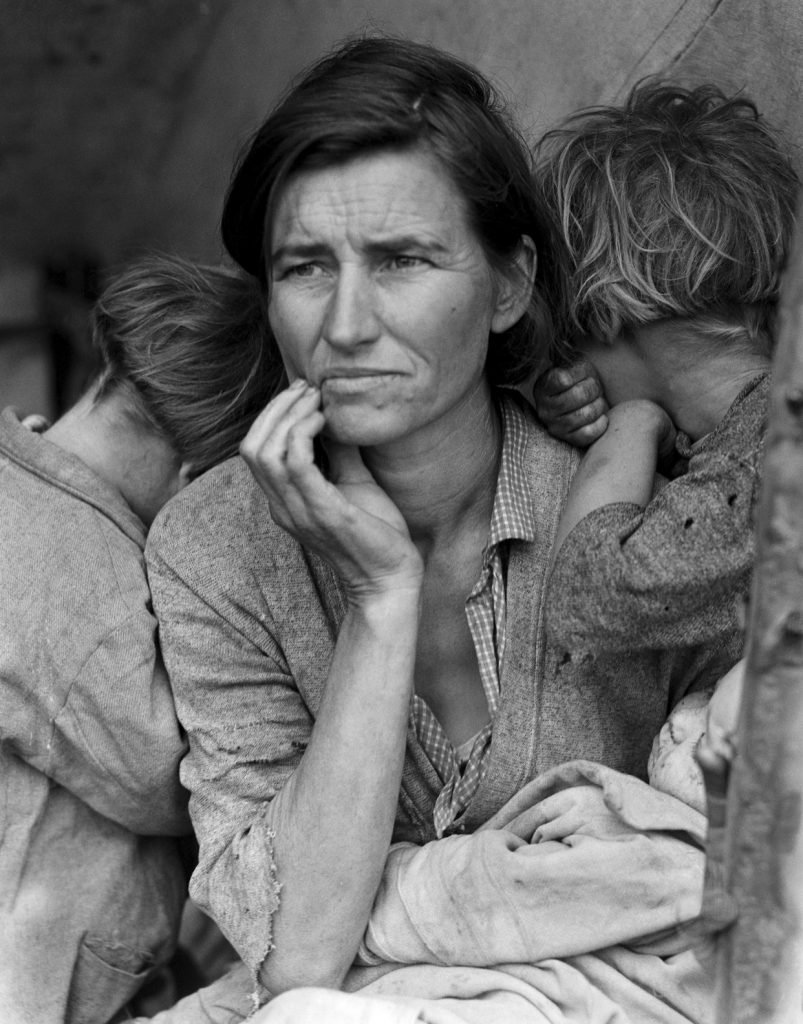 Migrant Mother, by Dorothea Lange
Take, for example, the photograph "Migrant Mother." Dorothea Lange took this photo during the Great Depression. It tells the story of a mother and her children struggling to survive. The photo is from 1936, but it still resonates with people today.
Photography is essential in history because it allows us to tell stories that might otherwise be missing. It's a way to preserve our memories and our history. And it's a powerful tool for communication and understanding.
Photos Help Us Understand History in a New Way
One of the great things about photos is that they can help us understand history in a new way. Often, when you read about history, you only get one perspective. But with photos, you can see many perspectives and better understand what happened.
Raising the Flag on Iwo Jima, by Joe Rosenthal
For example, consider the famous photo "The raising of the flag on Iwo Jima." Joe Rosenthal took this photo, and it shows the six men who raised the American flag on Mount Suribachi during the Battle of Iwo Jima. This photo has become one of the most iconic images in history, and it's reproduced in countless newspapers and magazines.
But what many people don't know is that the photo was staged. When Rosenthal took the picture, the flag was already up on the pole, but he and his team posed for it anyway. This shows that photos can be misleading, and we need to be careful about what we believe.
But at the same time, photos can also be incredibly truthful. For example, the photo of the girl running from a napalm attack in Vietnam is one of the most iconic images of the Vietnam War. It's reproduced in magazines and newspapers worldwide, and it's helped us understand the horror of that war.
In short, photos can help us understand history in a new way. They can give us a better understanding of what happened and help us see things from a different perspective.
Photography Is a Tool for Propaganda
Propaganda is one of the most critical ways that others have used photography. Governments and other organizations have often used photographs to create a specific image or message. This may include misinformation about events or a person. It could glorify them or demean them.
Photos are often carefully selected and edited to present a particular perspective. Another example is during World War II. The Nazi regime used photographs to create a positive image of Adolf Hitler and the Third Reich. Meanwhile, it downplayed the horrors of the Holocaust.
Similarly, during the Vietnam War, the United States government used photos to portray the war as a just and necessary conflict. This is despite evidence to the contrary.
Photography Documents Natural Disasters and Other Tragedies
Another important use of photography in history is documenting natural disasters and other tragedies. For instance, the earthquake and tsunami that struck Japan in 2011. Photographers from all over the world flocked to Japan to document the image of destruction. Their photos helped us understand the scope of the disaster and the human cost.
Similarly, after Hurricane Katrina hit New Orleans in 2005, photographers went to the city to document the damage. Their photos provided a shocking glimpse into the devastation from the hurricane.
We can also look at global warming as a form of natural disaster. The effects of global warming have become more and more evident. So, photographers are documenting them to create awareness about this issue.
We can compare before and after images of glaciers melting and see the devastating effects of global warming.
There are a variety of ways to document natural disasters and other tragedies. It provides us with a visual record of these events, which can help us understand what happened.
Photography as Evidence in Court Cases
Court case evidence in photography was necessary after the assassination of President John F. Kennedy. Police took photos of the crime scene. Those photos were then used as evidence in the trial of Lee Harvey Oswald.
This history is like after the terrorist attacks on September 11th, 2001. Photographers documented the damage at Ground Zero. Those photos were then used as evidence in the trial of Khalid Sheikh Mohammed.
In both cases, photography helped establish what happened and who was responsible.
Photography Preserves Cultural Heritage
Photography is also a tool to preserve cultural heritage. For example, the Library of Congress uses digital photography to preserve rare and vital documents.
UNESCO is using photography to document endangered cultural heritage sites. By photographing these sites, they can help protect them from destruction.
Photography provides us with a visual record of our history and culture, which can be helpful in understanding and protecting it.
Conclusion
Photography is essential in history because it allows us to see things differently. It's a tool for propaganda to document natural disasters and other tragedies. And it can preserve cultural heritage and as evidence in court cases.
Photography provides us with a visual record of our history and culture. It can be helpful in understanding and protecting our world. So, later on, we can pass it on to future generations.