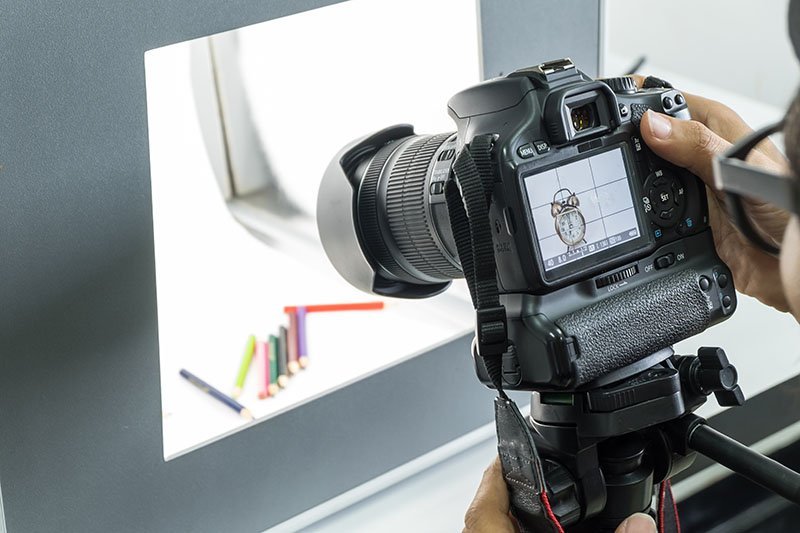 Lightbox photography is a way to showcase your products or any item really, on a smaller scale. Many photographers like you become stumped with getting the right setup for lightbox photography, though.
In this guide, we'll show you our picks for the best lightboxes and how you can use any one of these lightboxes to create stunning lightbox photography to show off your products or works of art:
Best Overall for Lightbox Photography
AmazonBasics Portable Foldable Photo Studio Box
Our best overall light box pick for lightbox photography is the AmazonBasics Portable Foldable Photo Studio Box. No assembly required, you can set up for lightbox photography in under a minute. Cleanup is the same, super fast and easy.
You get high output LED lights so handheld photography is a breeze with your camera or smartphone. You also get 5600k daylight balanced LEDs and a high Color Rendering Index (CRI).
Customers like you love this photo light box for lightbox photography because it's so easy to use. And, the front three-door system maximizes image angles and at the same time reduces outside reflections. Customers also love that you can take images above with this pick.
Best Budget Lightbox
PULUZ Mini Photo Studio Box
Our best budget pick for lightbox photography is the PULUZ Mini Photo Studio Box. This lightbox provides high brightness for shooting so your images come out amazing. The multi-angle shooting, no strobe effect, and the fast set up make this lightbox a value.
Customers like you love that they can set up this lightbox in a flash and that it even has a USB power supply. With high-quality SMD LED beads, you can take product photos like a pro.
Best Runner-Up Lightbox
LimoStudio 16″ x 16″ Table Top Photo Lightbox
Our runner up for best lightbox photography is the LimoStudio 16″ x 16″ Table Top Photo Product Lightbox. Customers like you love the LimoStudio because it's so inexpensive and does the job of lightbox photography so well.
Use this table top photo lightbox for taking product images or creating small scenes to post on Instagram or Pinterest. A bonus is you get a sleek bag so you can take your lightbox anywhere you go.
Best Lightbox for Large Items
Travor Photo Light Box Kit 35x35Inch
Our best pick for lightbox photography of large items is the Travor photo lightbox. This lightbox is super bright at 15000LM and the CRI is 95+. Customers like you will love the shooting tent for large dimensions (90cmx90cmx90cm) and the four optional color backdrops you can choose from.
Plus, you'll love that you can set up this lightbox easily with no tools needed. And take multi-angle shots that produce great images. Take down this lightbox just as easily.
As an added bonus, you can adjust the brightness gradually from zero percent to 100 percent without any distortion.
Best Lightbox $100
DUCLUS Portable Photo Studio Box
The DUCLUS Portable Photo Studio Box is a self-contained setup for photographing small to medium-sized objects. Unfold the light tent with its own 5500K daylight LEDs, and you're ready to go! The studio comes equipped with a front horizontal shooting window. It's perfect for when you're in an unfamiliar space or looking to do multiple "staged" shots. And the vertical window is particularly convenient (and flattering!) for portrait photography.
Brightness dimmer allows you to control the mood lighting, and it ranges from 10%-100% brightness levels. It even has a nylon carrying bag straps!
The DUCLUS Portable Photo Studio Box is here and available at your fingertips. Don't waste another moment awkwardly struggling under natural lighting.
Best Lightbox Under $50
Emart 14″ x 16″ Photography Table Top Light Box
Simplicity is key with our pick for best under $50 for lightbox photography, the Emart 14″ x 16″ Photography Table Top Lightbox. This lightbox is so portable, yet professional when set up. With its micro USB port power cable and power bank, you can set up like a pro.
Customers like you love how you get powerful LED light strips at 10W 5500K, so you get continuous lighting for tabletop shooting.
When you're done, use the top loop handles and easily carry around your lightbox so you can shoot lightbox photography anywhere.
Honorable Mention Best Lightboxes
Neewer 24×24 inch/60×60 cm Photo Studio Shooting Tent Light Cube Diffusion Soft Box Kit
Next on our list is this affordable lightbox photography Kit by Neewer. You'll love this lightbox photography kit because you get so much. You get an opening in your lightbox so you can take easy images.
You also get a fun custom carrying case with shoulder and hand straps with this photography box so you can carry with ease.
Customers like you love that this budget lightbox eliminates reflections and shadows so easily and produces consistently clean lightbox photography.

Foldio3 + Halo Bar + Foldio360
Next on our list is the Foldio3 + Halo Bar + Foldio360 for lightbox photography. This lightbox is designed for size and portability, so you can take it anywhere and assemble in just ten seconds.
You can arrange the studio backdrops so easily with different options in color so you don't get any reflections when doing lightbox photography.
Customers like you love the triple LED lighting system this lightbox comes with. Also, you can create 360 degree images with just one click of a button. And you can use the halo bars and dimming controller for better lighting conditions.

MyStudio MS20LED Professional Tabletop Lightbox Photo Studio
The MyStudio MS20LED Professional is perfect for lightbox photography because it is designed in such a way to achieve the most crisp, clean photos. With a seamless cyclorama infinity background, get 90 degree shooting angles and depth not available with most lightboxes.
Customers like you love the even lighting distribution this lightbox gives when taking product or object shots. And with its long, 30,000 hour lifespan, you know you will get the most use out of this lightbox.

HAVOX – Photo Studio HPB-40XD
Last but not least on our list is the HAVOX – Photo Studio HPB-40XD. This lightbox comes with 120 special dimmable LED photo lights, which gives you the perfect amount of light for bright and vibrant photos.
Customers like you love that this lightbox is designed for adaptability, allowing you to get the best angles based on the size objects you are photographing.
Customers also love that this lightbox is designed for any skill level of lightbox photography. So, whether you are a novice or a pro photographer, you know you can get the right shot anyway.
What is a lightbox in photography?
A lightbox consists of a little pop-up tent, consisting of a white fabric box with a hole in front and three lights. A lightbox would be a container with several light bulbs and a pane of frosted glass on the top. Professional photographers can use lightbox photography to view transparent films. The lightbox was first used to sort photographic plates. Sometimes, when you lay it flat, you could call it a light table.
A lightbox is lit like daylight (5,000–6,000 kelvins (K)). It has uniform light strength on the glass pane. There are fabric reflectors that attach to studio lighting with a connector. It creates soft lighting by diffusing the strobe flash. They come in rectangle or octagon shapes and sizes. Some interior reflectors are white, silver or gold. They alter the temperature of light.
Let's look at some ways to make lightbox photography. And where you can get the best light boxes for your photography.
How do you use a lightbox for photography?
Lightboxes are perfect for product shots. To set up, make sure you check your operating instructions. Here's how to use your lightbox:
First you must use 1 to 3 lights to set up. If you want shadows, then only use one light.
Place your product in the lightbox.
Next, put one light at each side of the lightbox to erase any shadows and get a clear picture of your product.
Next, if you still have shadows, add a light to the top to erase any shadows that might show.
Use diffused lighting to balance out the brightness as well.
Take your product shot from the desired angle.
How do you use a light tent for small product photography?
First, consider the size of your products. This is going to help you decide how much space you need inside your tent.
Make sure your light tent is smooth. You may need to iron out the tent to avoid having any wrinkles.
Set up your studio. You can do this on the floor if you have room, but most people set up on top of tables too, especially if your lightbox isn't very big.
Set up your lights (seen in "how do you use a lightbox for photography?")
Check your camera settings to make sure you have the right white balance and settings for your product shots. You can also use portrait mode on your smartphone.
Snap away at different angles. Try out using diffusers to help drown out any shadows and get the right lighting on your product.
What is the purpose of a lightbox?
The purpose of a lightbox is to take crisp clean product shots, without shadows or other environmental factors that will distract from your photos. Lightboxes are used to diffuse out other light factors that may disturb your shot.
So, your lightbox photography can look like it is straight out of a professional catalogue. Many of those running ecommerce stores or shops should use lightboxes for their product photos.
Lightbox photography tips
Here are some great lightbox photography tips so you can get the most out of your product shots:
Using glue dots, hold your product in place so it doesn't move.
For clothing items or accessories, try using a mannequin, bust, or any type of flat lay to display them properly.
For harsh light, use a diffuser.
Try studio lights if your lightbox doesn't come with any.
Use a tripod to take photos.
Make sure you are using the right camera and camera lense.
How to Shoot Lightbox Photography
First place the box on some kind of table or end table, with the light sources opposite each other on each side. The tripod should be centered in front. Place the box up on a table. This will make it easier to see. You can and maneuver as well as make it easier to use your tripod for shooting.
Your backdrop is attached at the top inside the box. And it should fall freely down into a gentle curve at the back and then across the bottom of the tent. Make sure that your backdrop is clean and free of wrinkles or debris. If you are using a fabric backdrop, iron it for a completely smooth look. Use a lint roller or small blow dryer for dealing with the inevitable dust and debris.
Pro tip: If you iron your fabric, you can keep it wrinkle free by rolling it up on a cardboard tube after you shoot.
Ready to start photographing? Put your subject inside the box. And start with your object in the exact center. Moving your subject forward or backward relative to the light. It can change the lighting and shadows. Experiment for the right look. You can also experiment with lights by pointing them at a slight angle. Leave space between your subject and the walls. You'll be able to zoom in or position your camera to see only the backdrop and not any edges.
You can use ambient lighting and adjust as needed. There is no difference between shooting midday in diffused indoor light, and shooting at night with only the lights. Avoid direct sunlight shining in or at your tent. It will be difficult to balance such a powerful light source.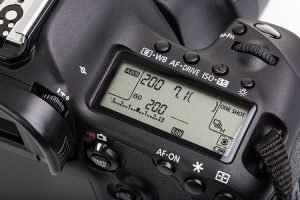 Camera Set-Up For Lightbox Photography
Secure your camera on the tripod. Use either the two-second timer or a remote shutter release. This will make your tripod remains steady. Lenses with image stabilization, vibration reduction, or vibration control, should switch off. You can use longer shutter speeds with crisp results by using the tripod.
Shoot in aperture priority mode with an ISO of 100 (or the lowest value for your camera). Choose your aperture based on the look that you want in the image. If you want a narrow depth of field and lots of blur, choose the wide aperture like f/1.8. If you want a narrow and wide depth of field and crisp focus across the entire subject, choose an aperture like f/22. For food photographs: use wide apertures and selective blur to make food look more appealing. For product shots of crafts and handmade goods, use a narrow aperture to keep the entire item into focus. Do you want to avoid blur in the foreground? Your focus should be set using the part of your subject that is closest to the camera.
Try using exposure compensation to shoot a series of three shots, bracketed at -1, 0, and +1 exposure. You will see which gives you the best results.
Tip: For white backgrounds, you may get better results around +1; while for black backgrounds, you will get better results around -1. If a full stop is too dark or too light, try a half or a third of a stop.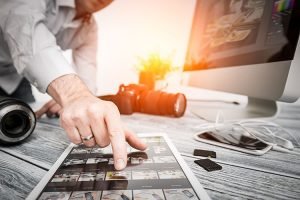 Editing Lightbox Photography
You may want to do some more editing to ensure that your whites are white and your blacks are black. Using Adobe Photoshop can do this:
For RAW, adjust the white balance of your image, making your whites look white and not yellowish. Your light bulb will list the color temperature of the light they produce. Use as a guide for setting the white balance. Set the white balance by shooting a white card and calibrating with that image. If your background is pure white or black use the color picker in the RAW processor to neutralize any tint.