We've all been there: the photo session is over, and you're wondering whether to tip the photographer. Do you? Whether or not to tip photographers is a hotly debated topic.
In this article, we'll dive into the subject and provide some insight into when and how much you should tip your photographer, whether they are a wedding photographer, a photographer for family portraits, or even someone capturing your engagement photos.
When Should You Tip Your Photographer?
Tipping is not always expected, but it's always appreciated. It's a way to show appreciation for a well-done job, especially when your photographer goes above and beyond. Here are some instances when you should consider tipping your photographer: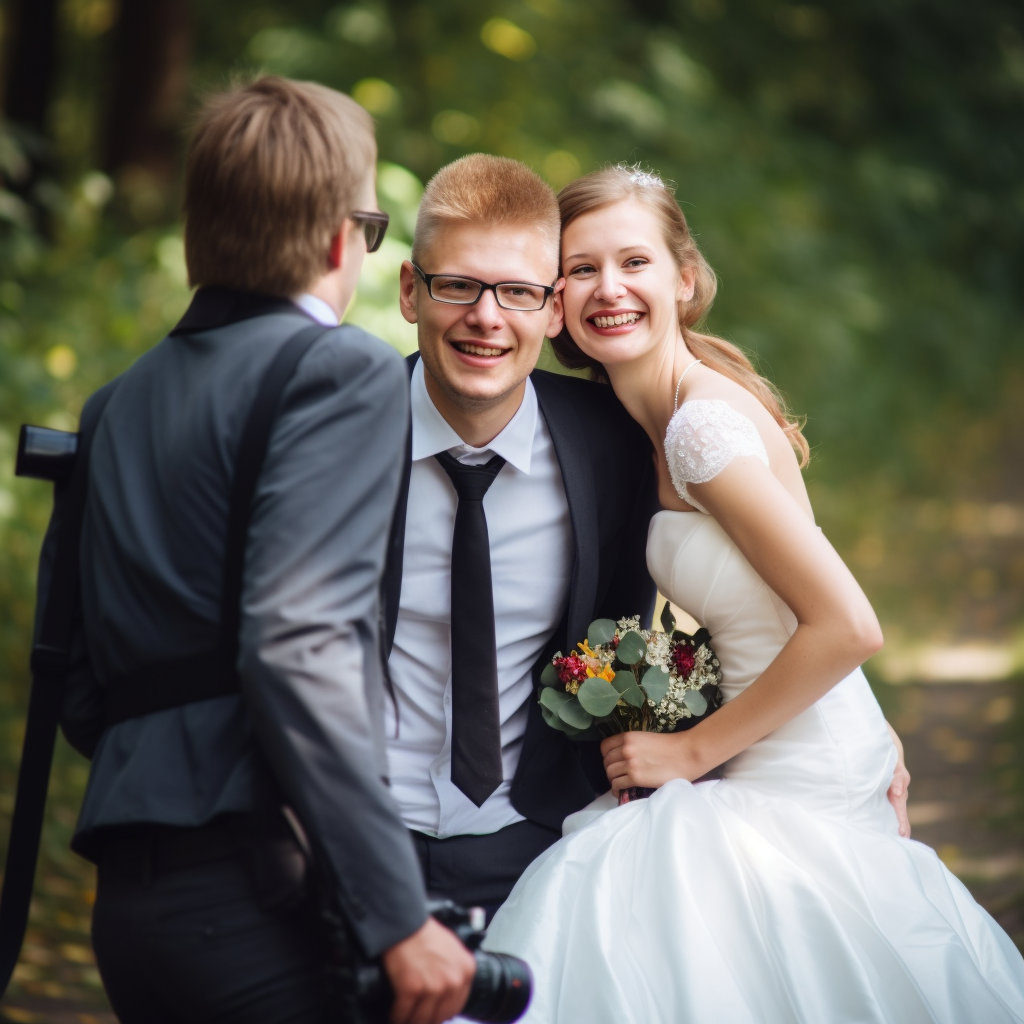 Wedding Photographer
Tipping your wedding photographer if you're satisfied with their work is customary. They're capturing your special moment; if they've done an exceptional job, a tip is a great way to show your gratitude. Remember, wedding photographers put in a lot of work on your big day and spend hours editing your photos afterward. They may also coordinate with other vendors, scout locations, and help create a wedding day timeline to ensure everything runs smoothly.
Photographer for Family Photos
Regarding family photos, tipping is less prevalent than in wedding photography. However, if the photographer goes the extra mile to make your family portrait session enjoyable and delivers high-quality pictures, you should show appreciation with a small tip. This could be especially true if the photographer is patient with young children or captures the perfect shot despite challenging circumstances.
Engagement Photos
Much like wedding photographers, photographers for engagement photos should receive a tip if they provide exceptional service. Since they're capturing the start of your journey as a couple, tipping can be a way to say thank you for their efforts in making your engagement photos unforgettable. They may spend time researching and suggesting locations, helping you with wardrobe choices, or even providing guidance on posing to make you both look your best.
How Much Do You Tip?
The amount you tip can vary depending on the type of photography and the service provided. Here are some guidelines for tipping different types of photographers:
Wedding Photographer
A good rule of thumb is to tip 10-15% of the total cost of the photography service. If there's one present, this can be split between the primary photographer and their assistant. Some people prefer to tip a flat amount, like $100 to $200, based on their satisfaction with the service. Remember that wedding photographers often work long hours, and the editing process can be time-consuming, so your tip should reflect their dedication to capturing your special day.
Family Photos
For family portrait sessions, a tip between $15 and $50 is appropriate, depending on the quality of the photos and the photographer's level of service. Factors to consider when determining the tip amount include:
The length of the session.
The number of edited images delivered.
Any additional services or products provided by the family photographer.
Engagement Photos
For engagement photos, a tip of $50 to $100 is usually sufficient to show appreciation for the photographer's work. As with other types of photography, consider the time and effort your photographer puts into planning, shooting, and editing your engagement photos when determining the appropriate tip amount.
What about Other Types of Photography?
Here's a quick rundown of tipping etiquette for other types of photography:
Headshots: Tipping for professional headshot photography is different than expected, but if the photographer provides exceptional service, a tip of $25 to $50 is reasonable.
Real Estate Photographers: Tipping is not expected in this niche, but if you're particularly impressed, a small tip or a thank you note would be appreciated
Baby Photographers: A tip of $25 to $50 is a kind gesture to show your appreciation for capturing precious moments of your little one. Remember the photographer's patience and creativity in working with infants and young children, as these sessions can be challenging.
Mini Sessions: For mini sessions, a tip of $10 to $20 is an excellent way to thank you for a quick and efficient photography session. These sessions are usually shorter and more affordable than full sessions, so adjust your tip accordingly.
Tipping Etiquette and Alternatives
While tipping is an excellent way to show your appreciation, understanding tipping etiquette is also essential. Here are some general guidelines to keep in mind when considering whether or not to tip photographers:
Tipping is different if the photographer is self-employed or owns the photography studio. However, if they've provided exceptional service, a tip is still a kind gesture that will be appreciated.
If the photographer is part of a larger photography company, tipping may be more expected since they might receive a partial payment for the service.
Be discreet when handing over your tip, preferably in an envelope, and hand it directly to the photographer or assistant.
If you need help deciding whether to tip or how much to give, asking friends, family, or online forums for advice on tipping practices in your area is acceptable.
In case you can't afford to tip or prefer alternative ways to show your gratitude, consider these options:
Write a heartfelt thank you note: A handwritten note expressing your appreciation for their work can make a lasting impression on your photographer.
Leave a glowing online review: Positive reviews can boost a photographer's reputation and help them attract more clients. Take the time to write a detailed review on platforms like Google, Yelp, or social media.
Refer friends and family: If you've had a great experience with a photographer, recommend them to others who require photography services. Word-of-mouth referrals can be precious for a photographer's business.
Ultimately, whether you tip photographers or show your appreciation in other ways, it's essential to acknowledge the time, effort, and skill that goes into capturing your special moments. Remember that every photographer's needs and expectations may vary, so always use your best judgment when deciding on tipping practices. And remember, a little gratitude goes a long way in fostering a positive relationship with your photographer, ensuring they'll be eager to work with you again.
Conclusion: Do You Tip Your Photographer?
The question of tipping your photographer ultimately depends on the type of photography, the effort put in by the photographer, and your overall satisfaction with the results. If you feel your photographer went above and beyond to make your experience memorable, a tip is a beautiful way to acknowledge their hard work. Remember these guidelines when determining if and how much to tip, and remember alternative ways to show appreciation if a monetary tip isn't possible.
Remember that tipping is not required, but it's a great way to show appreciation for a photographer's hard work and dedication. By considering the factors discussed in this article and using your best judgment, you can decide whether or not to tip your photographer and how much to give.
FAQ
Do you tip a second photographer?
Tipping a second photographer is not mandatory, but it is a nice gesture if they provide exceptional service and contribute significantly to capturing your special moments. If you decide to tip, consider giving a smaller amount than the primary photographer, as the second photographer often has fewer responsibilities.
Should I tip photographers for free or discounted services, like promotional sessions or portfolio-building shoots?
While tipping for free or discounted services like promotional sessions or portfolio-building shoots isn't required, it's still a kind gesture to show appreciation for the photographer's time and effort. Since the photographer offers their services at a reduced rate or for free, a tip can help compensate them for their work.
You can consider tipping a smaller amount than you would for regular sessions. Alternatively, you could show your gratitude in other ways, such as providing a glowing review, referring them to friends and family, or sharing their work on social media. Remember, any appreciation can go a long way in supporting photographers and their businesses.
Is giving a non-monetary tip, such as a gift or a gift card, acceptable?
Yes, giving a non-monetary tip, such as a gift or a gift card, is acceptable to show your appreciation for your photographer's work. Remember that the gift or gift card should be thoughtful and relevant to the photographer's interests or needs. For example, a gift card to a local restaurant, coffee shop, or photography supply store would be appreciated.
However, it's essential to consider the photographer's preferences and cultural norms in your area when deciding whether to give a non-monetary tip. Some photographers might prefer cash, while others may appreciate a thoughtful gift or gift card. If you need clarification about your photographer's preferences, you can ask them directly or consult with friends, family, or online forums for guidance.