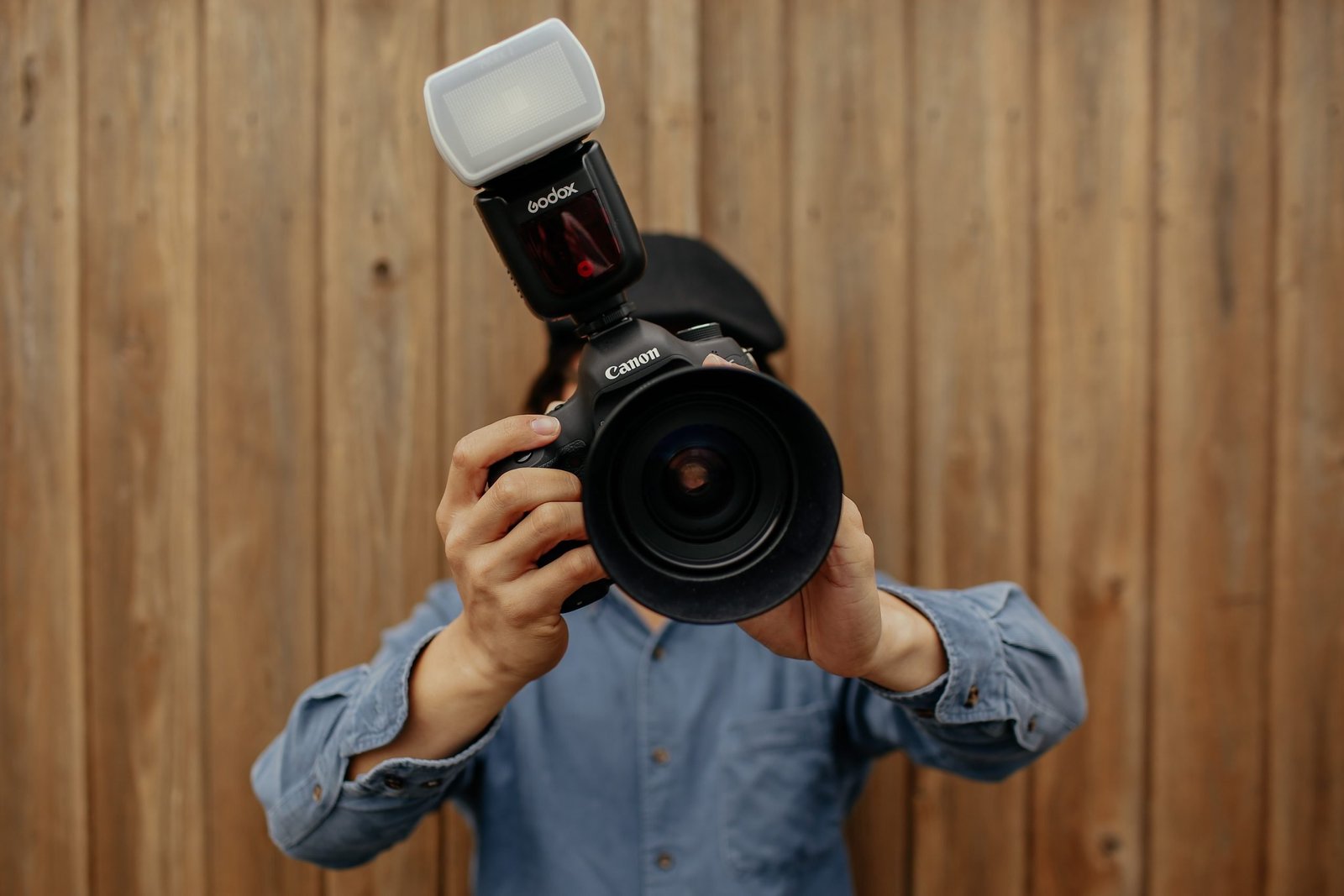 The everyday photographer relies on light. But how do you find the best camera flashes for your work? You might be a photographer who takes professional product shots, family portraits, or even weddings. And sometimes, you need to have light to back it up. Otherwise, you're going to get pictures that are way too dark without natural light.
It's hard to find the best camera flashes for your camera. Thankfully, you have Shutter Release to help guide you through the best camera flashes on the market. We all know that Canon, Nikon, Sony, and all the others take photos differently, so you'll need to know what works best. Sit tight, and find the best match for your photography business.
Best Canon Flashes
Canon Speedlite 600EX II-RT
Want impressive power and responsive performance? The Speedlite 600EX II-RT does just that. Get the best in flash photography with improved continuous performance, two times faster than the Canon flashes that came before them. And they're so reliable with the flash readiness indicator that lets the flash operate even when not fully recharged.
You can use this best camera flash anywhere and in any situation needed. The button and dial controls and dust and resistant body make this flash stand up to anything. And the accessories are made for enhanced lighting effects on the go.
Customers choose this best strobe light because it works just as it describes. Customers even love how great it works in a softbox or as on its own. You can adjust this camera flash the way you need it, and it's so intuitive to use for whatever type of photography you do. It works flawlessly.

Canon Speedlite 430EX III-RT Flash
If you shoot in complex lighting environments, this Canon Speedlite 430EX II-RT is the best camera flash for you. Create stunning flash photography, no matter the setting. It's so simple to operate yet boasts some advanced features for pros and novices alike. Even better, it's pretty compact in size with some powerful range for a portable and reliable light source.
Enhance contrast, color temperature, brightness, and focus of the light and get the most natural-looking photography in return. Use the flash to bounce off a wall or ceiling for brightening up your subjects. Or use it to soften the intensity of the flash beam with its versatility.
This best photography flash comes with custom and personal functions. It also boasts speedy recycle times and wireless options. It will become the staple in your photographer's toolkit for next-level photography. You can balance brightness between the background and your subject like an expert. And the flash exposure lets you adjust within a six-stop range of +/-3EV down to increments of ½ or ⅓ step on the flash's control dial. For a fool-proof flash, this best camera flash works so well!

Canon Speedlite EL-100
If you want the best camera flash that's compact and versatile, the Speedlite EL-100 is the best choice for you. This light brightens dark rooms. And it fills in light to prevent underexposed and images full of noise. You get performance and features for gorgeous photos – no matter the setting.
And, with several wireless flash operations, you have options when it comes to creative possibilities. There's even a remote shutter release when used with an EOS camera. Plus, pivot and twist the camera flash to get the light you want. Choose a maximum of 90 degrees upwards to 150 degrees to the left and 180 degrees to the right.
Take your compact best camera flash anywhere you want for photoshoots. The flash only weighs about 6.7 ounces. When you have your flash in your camera bag, you won't be weighed down. Customers love the nice size the flash provides to take anywhere you want to go.

Canon Speedlite 470EX-AI Flash
For beginners, we can't recommend this best camera flash enough. The Canon Speedlite 470EX-AI flash and case is perfect for any novice photographer. It's so easy to use. So much so that the rechargeable double AA batteries make it easy to shoot from day tonight. And the L bracket lets you mount the flash onto your camera with the tripod thread, so it's easy to use.
The camera flash comes equipped with an auto intelligent bounce head, AI.B full-auto and semi-auto modes, an optical receiver mode, LCD panel, and an AF assist beam. There's also a TTL cord, allowing you to communicate with the camera hot shoe mount without mounting it directly above your camera's body.
You'll love this best camera strobe for taking interior shots during low-light situations. And you won't have to compromise quality with this one. A great pick if you're beginning your photography career.
Best Nikon Flashes
Nikon SB-5000 AF Speedlight
The best camera flash by Nikon has got to be Nikon's Speedlight. It's designed to empower photography professionals and enthusiasts alike. Nikon's Creative Lighting System gets to work with Advanced Wireless lighting for next-level optical wireless control and new radio control. You can put up to six groups of remote flashes up to 98 feet away and with obstacles and still function this flash. The integration is purely seamless, even if you're in different rooms.
The Speedlight is also capable of continuous shooting and can handle over 100 consecutive shots at the total output with no overheating. Shooting with TTL also means a new level of lighting control. It's ready when you are!
Customers love this best camera flash because of how powerful it is. The recycle time is under two seconds, and the strobe mode is unique, making it a seamless camera flash.

Nikon SB-700 AF Speedlight Flash
For a high-performance portable flash, the Nikon SB-700 AF Speedlight flash is a beautiful addition to your photography toolkit. Flash photography is simple, creative, and on-point with this flash. There's lots of power and depth-of-field control to offer with this one compact flash that any camera could offer.
You can achieve professional and excellent results by using this best camera flash in multiple types of venues. You'll be able to reach a wider group of people when shooting, out to around 10 to 12 feet with enough coverage. You won't find yourself going about ISO 400 either in dark lighting situations. All you need to do is set it, point, and shoot.
Best Sony Flashes
Sony HVLF20M, MI Shoe External Flash for Alpha SLT/NEX
The best camera flash for Sony cameras is the Sony HVLF20M. This camera flash goes beyond the range of a camera's built-in flash and has expanded compatibility thanks to the New Multi-Interface.
The bounce flash on this Sont flash ensures you won't have shadows when shooting in low light situations. Even when shooting indoors with high ceilings, the bounce mode will give you great soft light and enhanced subject separation from the background.
It also comes with rechargeable AA batteries, enabling a perfect battery life. And you won't have to worry about red eyes, even with the red-eye feature turned on. This is an excellent value for one of the best camera flashes out there by Sony, no matter your skill level.

Sony External Flash
(HVL-F28RM)
The next best camera flash for Sony is the Sony External Flash that includes a wireless remote control. It's known for being nimble and compact. The external flash is intelligent; it can use Sony's Detection2 to capture natural skin tones for a more natural low-light shot.
The camera flash also features rea-sync, slow-sync, high-speed sync, and multi-flash settings. The compact body, the features, and the reputation of this best Sony camera flash will exceed anyone's expectations.

Sony HVL F32M
The Sony HVL F32M is another powerful flash that is the best at shining light for you in many different lighting situations. It's slim and compact at 82 millimeters thick, easy to throw in your bag, and carry with you everywhere.
The camera flash design is dust and moisture resistant, available for the most challenging shooting situations. It's the perfect addition to E-mount cameras at a reasonable price.

Sony HVL-F45RM Compact, Radio-Controlled Gn 45 Camera Flash with 1″ Display
The Sony HVL-F45RM is a compact and radio-controlled camera flash that supports multi-flash photography for professional photographers. It gives you the best illumination for bounce lighting or high-speed-sync. Use it as a transmitter or receiver up to around 98 feet, 15 units, and five groups. If you work with creative lighting and multiple flashes, this is the best camera flash for you.
The wireless flash is powerful and recycles in around two and a half seconds. Get reliable stamina for a steady supply of about 210 bursts. Photography professionals and hobbyists alike love working with a flash with flexible lighting like this one. Customers love it the best while shooting with TTL in program mode for the most outstanding results.

Sony External Flash
(HVLF60RM)
The following Sony best camera flash is this external flash with a wireless radio camera flash. IT boasts powerful flash lighting at guide number 60. And it operates on-camera flash with a radio wireless commander or receiver. The recycling time of this camera flash is 1.7 seconds. The continuous shooting is 220 shots per battery set.
You also get a mini-stand, case, a bounce adapter, amber color filter, green color filter, and a carrying pouch with your purchase. Most customers love how the flash works as both a commander or receiver and will not overheat. It even is compact and spins and tilts—a great addition to your photography toolset.
Best third party flashes
Godox TT600 Camera Flash
Our first best third-party flash is the Godox TT600 camera flash. Get 230 flashes per battery with a recycle time of .1 to 2.6 seconds. Get a short flash duration, high illumination, and a long-distance shot while using this best camera flash. It's built-in with a 2.4G wireless transmission and is compatible with other Speedlights. The wireless transmitter triggers other devices with the same wireless control system. It's also compatible with most brands of cameras. Always check to make sure when you go to buy.
Customers love how you get such a sound lighting system for such an affordable price. You'll love being able to do high-speed-sync (HSS) up to 1/8000 with any brand camera.

Neewer TT560 Flash Speedlite
The Neewer TT560 Flash Speedlite is from one of our favorite brands, so it only makes sense to have this best camera flash on the list. You get a vertical rotation angle of zero to 90 degrees and a horizontal rotation angle of zero to 270 degrees. It's also compatible with most Mi hot shoe cameras. And you can charge this camera flash's batteries.
Customers love this best camera flash because of the quality of the build for such a low price. It's also super easy to operate and maneuver. Just make sure you double-check that it's compatible with your camera make and model before purchasing.

YONGNUO YN660 Wireless Manual Flash Speedlite
This next best camera flash is the YONGNUO wireless 2.4G manual flash Speedlite. This camera flash supports master control functions and can be used as a master control unit. Equip this light with up to six groups of independent light units. And it automatically has saved settings when you turn the flash off so you can customize it how you want it to your liking.
Even better, you won't be spending much money on this third-party flash since they're cheap. It's also manual, which helps you learn how to set up your studio if you're a novice photographer.

Nissin NI-HDI702S Di700A Commander Air 1 Kit for Sony
The Nissin Di700A is equipped with Commander Air1 and is a radio transmission wireless flash system. You can hook this best camera flash to up to 21 Nissin Air System Flashguns, too. You'll find the radio transmission flexible compared to the optical systems. This is especially true because it doesn't rely on line of sight. That means you won't have to worry about angle and obstacle limitations. You'll get around 30m with this camera flash, too.
Customers find this best camera flash a well-made light, made of excellent quality. The batteries will also come in a cartridge, so you can use spare batteries and swap them out when you're out on a photoshoot. These also happen to work with Sony's flashguns, another plus if you're a Sony photographer.
Frequently Asked Questions: Best Camera Flashes
What is the best camera flash to buy?
Canon Speedlite 600EX II-RT
Nikon SB-5000 AF Speedlight
Sony HVLF20M
Godox TT600 Camera Flash
How long do camera flashes last?
Camera flashes typically last a pretty long time. It's not rare to own a camera flash for years, sometimes even around 30 years, if it's a perfect quality flash and you don't use it every day. You will probably get about 10 to 15 thousand flashes out of one camera flash.
What is the difference between a flash and a Speedlite?
Flashes and Speedlites are the same. But you might see people referring to Speedlight as a flash that you can mount on the camera, using a hot shoe, and control it that way. Sometimes people also refer to strobes as an enormous camera flash and is situated on a light stand.
What is TTL on a flash?
TTL stands for "Through The Lens Metering." How a TTL works are it shoots out a few infrared flash bursts before firing up to take the shot. It is essential for sending information to the camera to adjust the flash power for the most balanced picture possible.
Is TTL flash necessary?
While you're not required to have a TTL flash, you probably should. You'll be able to have the flash output changed for you rather than messing with your Speedlite on photoshoots. It does everything for you.
Conclusions: Best Camera Flashes
A camera flash is essentially your best friend when you want to photograph low-light situations. You may find yourself on photo sessions and notice that you're having trouble balancing out the light. Now's the time to get the best camera flash for your photography business.
For more information and resources, check out our best photography lists and how-tos. Happy shooting!